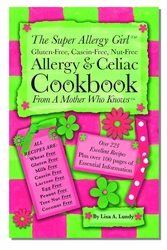 In total, these numbers add up to more than 90 million Americans having some food related issue or concern, and that number does not include the people who are using special diets for health benefits
Buffalo, N.Y. (Vocus) July 13, 2009
Taking an annual vacation can cut a person's risk of heart attack by 50 percent, and middle-aged men at high risk for coronary heart disease who take frequent annual vacations are 21% less likely to die of any cause and 32% less likely to die of their coronary heart disease according to the Travel Industry Association Beyond positive health implications, travel can provide benefits in the area of relationships, education, career and productivity and save employers money in stress related absences. For the 50 million Americans who suffer from all types of allergies and the individuals who have celiac disease or gluten intolerance, or who use special diets for the health reasons, traveling can be overwhelming and difficult. Allergy and celiac cookbook author, Lisa A. Lundy offers parents a short video to make traveling easier as well as a free tip sheet, which you can download from her website http://www.TheSuperAllergyCookbook.com.
Ms. Lundy's 7-year old daughter, Anne, has life-threatening food allergies to milk, eggs, peanuts, and tree nuts, and has allergic reactions to additives and preservatives commonly found in foods. Lundy's son, Noah, has celiac disease and is lactose intolerant, which means that gluten-free and dairy-free foods are also a requirement for her family. "My children have extensive food requirements for their safety and well being. I dream of the day when restaurants will have safe foods that will allow my children to order from the menu. And when I say safe, I mean no chance of cross-contamination, and no chance of a poorly trained food handler. Until that day arrives, we take foods with us when we travel. We don't let food issues get in the way of having fun and living a great life," Lundy said. Anne almost died from a cross-contamination issue when she was two and a half years old, and suffered a severe reaction to the drugs given to save her life from the food reaction.
Life threatening food allergies are estimated to affect nearly 12 million Americans. The Food and Drug Administration estimates that non-life threatening food allergies or sensitivities affect 75 to 84 million people or approximately 28% of the population in the U.S. Celiac disease, which requires the use of a gluten-free diet as the treatment, affects 1% of the population or about 3 million people. "In total, these numbers add up to more than 90 million Americans having some food related issue or concern, and that number does not include the people who are using special diets for health benefits" Lundy asserted.
Beyond food allergies and sensitivities, some allergy sufferers have to worry about environmental allergies to feathers, wool, dust, mold, and chemicals. Lundy knows firsthand about that having been treated for her own dust, mold, and pollen allergies as a child. Her children have environmental allergies of varying degrees. "With the right accommodations, my daughter can travel well and she will not need her asthma medication. We often have better luck getting all our needs met with bed and breakfasts, but as more hotels going green our options are expanding" Lundy said.
Lundy's cookbook, "The Super Allergy Girl™ Allergy & Celiac Cookbook -From A Mother Who Knows™", is a gluten-free, casein-free, dairy-free, egg-free, peanut and tree-nut free and other allergen-free resource with over 100 pages of essential information and over 225 excellent recipes. With over a decade of experience with food allergies, celiac disease and the gluten-free and casein-free diet, Lundy knows how to produce great tasting foods with the least effort possible. She is passionate about people understanding how they can use changes in their diet to resolve a wide variety of health issues and to understanding that being on a restricted diet doesn't have to limit your life. Her book is available at http://www.TheSuperAllergyCookbook.com.
Size: 6" x 9"
Pages: 405 pages
Soft Cover, Perfect Bound
ISBN#: 978-0-9797542-0-3
Price: $28.95
Contact: Ms. Lisa Lundy
Phone: (716) 835-6392
###