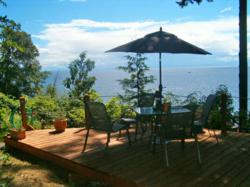 Since the 1890's people have been escaping to the Sunshine Coast. Whether by Union Steamship atthe turn of the century or via modern ferries and air service, the Sunshine Coast is a step back in time - the perfect getaway.
Sunshine Coast, British Columbia (PRWEB) June 15, 2011
Bigpacific.com is pleased to announce the expansion of its destination travel portal with a new section featuring the rustic cottage vacation on BC's Sunshine Coast.
The Sunshine Coast, though only a 40 minute ferry ride out of Vancouver's Horseshoe Bay, has always been geographically separated from the rest of the BC mainland by the long reach of Howe Sound. For a great many years that meant only the hardiest of pioneers - usually involved in resource extraction - could weather the remoteness of the region to create and maintain harbours and marine landings and bridge the cultural gap between new immigrants to Canada and the aboriginal tribes native to the area.
It wasn't until 1911 the the Union Steamship Company, formed originally to haul cargo up and down the rugged BC coastline, began its signature era of ferrying day trippers and cottagers up from Vancouver and points east and south spring through fall. Passenger traffic was so integral to the corporation that Union Steamship resorts were built on Bowen Island, the Sechelt Peninsula and other small close-in coastal communities in the Strait of Georgia. That cottage trade proved to lay the foundation of a maturing cottage vacation destination for almost a century.
While much has changed on the Sunshine Coast in terms of growth and amenities between Howe Sound and Desolation Sound, the rustic cottage vacation experience remains much the same today: a slower pace, less cars and traffic, friendly communities, a welcoming of diversity, a thriving arts community, and the sense of getting away from the hurly-burly of the metropolitan lifestyle.
There is still only one road connecting the chain of communities and ferry routes together, the ferry ride is a destination in and of itself, and you can still exit the highway into another time to enjoy the experience thousands of visitors have repeated for decades - the rustic cottage vacation with a trail out to a quiet beach or into a coastal forest.
From steamship to coastal ferry, the Sunshine Coast celebrates one hundred years of BC Coastal vacations for 'cottagers.'
About Bigpacific.com:
Bigpacific.com has been sharing the stories of the Sunshine Coast for over 14 years. The Bigpacific.com Guide assists visitors to plan their stay, research the area, and connect with everyone they need to know for a truly small-town coastal vacation.
###