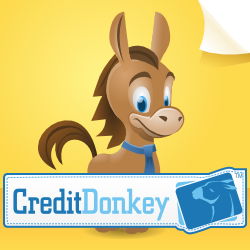 costs can add up to hundreds of dollars for a family of four
Los Angeles, CA (PRWEB) July 05, 2011
As Americans take off on their Summer 2011 vacations, be prepared for the extra costs.
CreditDonkey, a credit card comparison website, released a new infographic tallying up the most common costs American travelers will encounter on their trip.
( Infographic: http://www.creditdonkey.com/cost-of-flying.html )
"Unfortunately, many leisure travelers forget to add in all of the additional costs that go hand-in-hand with flying. These costs can add up to hundreds of dollars for a family of four, placing strains on already tight family budgets," says Charles Tran, founder of CreditDonkey.
"We want to make everyone aware of the hidden costs that come with travel so travelers can make smart choices this summer," shares Tran.
As revealed by the Real Cost of Flying infographic, the costs of flying are much more than just the airfare. And that's not including the unfortunate incidents of losing luggage or needing to reschedule flights.
"These somewhat hidden costs make a huge impact on your wallet," said Tran. "But when you're talking about a family of four, these unexpected costs can really put a wrench in a carefully planned budget. It's about the same as an entire extra seat on the plane, making the parents ask if the vacation is really worth all of the costs."
And there are some even larger expenses lurking in the shadows according to CreditDonkey. "Need to change your itinerary? That'll put you out an additional $150. Traveling with small children? In the past they would have flown free, but now they'll add an extra $49 to $100 to your bill. Don't want to leave your furry friends at home? That will cost you too—up to $400 with some airlines," shares Tran.
Thankfully, the folks at CreditDonkey shared some tips to help Americans who are planning to travel this summer:
Take advantage of airline credit cards - if you're going to spend the money, you might as well be rewarded for it. Besides seat upgrades and free flights, airlines often waive fees for their top frequent flyers.
» Gold Delta SkyMiles - Check your first bag free for up to 9 people on your reservation on every Delta flight; 20,000 bonus miles with your first purchase; no annual fee for your first year.
» United Mileage Plus - 25,000 bonus miles + $50 statement credit after your first purchase; no annual fee for your first year.
» Southwest Airlines Rapid Rewards Plus - 20,000 points toward free flights + $50 after the first time you use your card; your bags fly free; no change fees; $69 annual fee.
» Miles by Discover - 12,000 bonus miles (earn 1,000 miles each month you make a purchase for your 1st year); 2 miles on travel and restaurant purchases on your first $3,000 each year; no annual fee.
"If you're going to be using your hard earned dollars on flights this summer, why not take advantage of these cards?" asks Tran. "These cards can also be used for booking hotel rooms, rental cars, gas and restaurants, taking care of virtually any travel expense you may run into. Of course, you'll want to be responsible with your credit card usage. No rewards will ever be worth additional interest payments if you're unable to make payments."
Read up on your credit card benefits. Rental car insurance, baggage insurance, roadside assistance… the right credit cards are full of useful travel benefits. The best part? These extra perks are often free to cardholders.
"As long as the traveler used the right credit card for their travels, they can cash in on these benefits in the unlucky instance that their bags get lost or damaged, they're in a rental car accident or their car breaks down," said Tran. "These events can really put a dent in your bank account."
Avoid the weekends. The cost of flights varies greatly throughout the week, with the weekends being most expensive as they are the most popular times to travel. Consumers looking to cut down the costs of traveling should consider flying on Mondays and Tuesdays, as they are typically the least expensive days of the week.
"Flexibility is truly key when it comes to traveling on the cheap," said Tran. "Flying at unpopular times and unpopular days can help you cut corners so your travels don't make you rack up unnecessary debt."
About CreditDonkey.com
CreditDonkey.com is a credit card comparison site that publishes credit card research, informed opinions and related news/trends that empower American consumers to make informed credit decisions. Use CreditDonkey.com and save time and money. For more information, go to http://www.creditdonkey.com
###