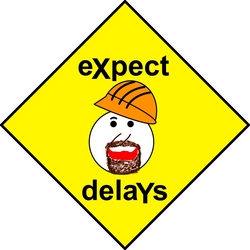 Pittsburgh, PA (PRWEB) October 10, 2008
eXpect delaYs, LLC provides the business and leisure traveler with a new useful one stop website to check for all aspects of travel delays before heading out the door. A traveler simply logs on to eXpectdelaYs.com to check for everything from flight status, flight schedules and delays, airport security checkpoint wait times and airport parking lot status, to traffic delays and road construction projects. eXpectdelaYs.com is here to help conquer those delays. If a traveler is faced with a flight delay or airport layover, then eXpectdelaYs.com has some suggestions on what to do to pass the time, such as one could visit a wine bar in Philadelphia International Airport, relax with a massage at Pittsburgh International Airport, or get energized with a workout at Las Vegas McCarran International Airport.
As an example of utilizing eXpectdelaYs.com, if a traveler is headed to the airport in Pittsburgh, he or she can easily check traffic on the route to the airport, followed by flight status and departure time, the length of the airport security check point wait time, and finally the occupancy percentage of each of the three airport parking lots, allowing trouble free travel from home or office to the gate on time with no surprises.
Currently eXpectdelaYs.com has 15 focus cities with more to come. For each city, eXpectdelaYs.com features comprehensive information about air travel, traffic, mass transportation, school closures and event cancellations. All are conveniently organized for easy access.
The eXpect delaYs Travel Delay Blog is updated regularly and contains valuable travel tips such as how to avoid and prepare for delays, as well as things to do when faced with one, including suggestions for specific airports. The eXpect delaYs Travel Delay Blog provides up to date information regarding airline rules, regulations or new charges, and changes or new happenings at major airports such as the opening of a new restaurant, bar or art exhibit. For example, there are recent articles on art exhibits at the Atlanta Hartsfield-Jackson International Airport and on airport wine bars, great ways to pass the time while one waits for a flight!
eXpect delaYs' goal is to arm the traveler with up to date travel information for his or her particular city as well as travel in general, to help one both avoid delays and survive (and possibly even enjoy) them. That's why their motto is "If you eXpect delaYs, you can beat them!".
###