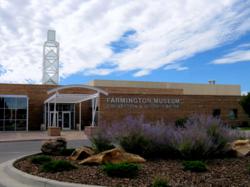 The City of Farmington has long been supportive of arts and culture, "casual and easy going, they made it happen," says Scott Hagler, local musician and leader of arts initiatives.
Farmington, N. M. (PRWEB) March 30, 2012
The City of Farmington has long been supportive of arts and culture, "casual and easy going, they make it happen" says Scott Hagler local musician and leader of arts initiatives. San Juan College in Farmington annually offers a series of lectures, concerts and plays. At the Civic Center downtown there are Broadway musicals and plays and at the state-of-the-art Farmington Public Library there are lectures and film classics.
Works by local and regional artists are in galleries and trading posts in the historic downtown area, and often featured at the Farmington Museum at Gateway Park. The Totah, a renovated movie theater, is now a 300-seat cabaret bringing in shows and available for rent on Main Street downtown. Quarterly art walks are held in the downtown streets. In the bluffs to the north of the city, each summer season there is a colorful outdoor theater production in the Lions Wilderness Park Amphitheater. This summer "Fiddler on the Roof" is playing.
The events calendar on the Farmington Convention & Visitors Bureau site supplies all the details and includes activities in the whole region. Here's a look at some of what's ahead this spring:
April 13, Spring Art Walk in Downtown Farmington on Friday, 5 to 9 p.m. sponsored by the Farmington Downtown Association, art receptions and open houses at many downtown locations.
April 22, San Juan Symphony Concert, Beethoven's Pastoral Symphony, also pianist Zhu Wang playing a Mozart concerto, San Juan College Henderson Fine Arts Center 3 p.m. Tickets: $30 Adults, $15 Senior (65 and up), $8 Students (18 and under).
April 27, Ann Beyke portrays Margaret Sanger: The Woman Rebel, part of a Chautauqua history series, San Juan College Little Theater, 7 p.m.
May 12 – July 14, Gateway to Imagination National Juried Art Show, an annual show with artists from across the country, Farmington Museum, 3041 East Main St.
May 13, RAIN, A Tribute to the Beatles, 200 Beatle favorites, 7 p.m., Farmington Civic Center, Tickets $55
Farmington Convention and Visitors Bureau offers travel information about attractions and accommodations. Go to their website or call their toll free number, 800-448-1240, to learn about the many things to see and do in the Four Corners.