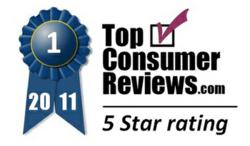 We're pleased to receive TopConsumerReviews.com's highest rating!
Overland Park, KS (PRWEB) September 20, 2011
TopConsumerReviews.com recently awarded their highest five-star rating to Squaremouth, an industry leader in Travel Insurance.
"We're pleased to receive TopConsumerReviews.com's highest rating," said Chris Harvey, CEO of Squaremouth. "We provide consumers an easy to use Travel Insurance brokerage website. Our advantage over the competition is providing easy to read, comprehensive information that makes buying travel insurance a breeze. Thank you for recognizing our efforts!"
It's an unfortunate reality that things happen when we least expect them. When unexpected events impact a vacation or travel plans, it can be particularly stressful. That's why many experts and seasoned travellers recommend travel insurance to provide protection at these critical times.
"Squaremouth is a professional and helpful insurance brokerage website offering immediate insurance quotes from the top travel insurance companies," explained Brian Dolezal, of TopConsumerReviews.com. "Once you enter your travel destination, a list of benefit packages will appear including the price, coverage, and insurance carrier name. Squaremouth provides easy-to-use comparison charts and options for sorting benefit plans by price or insurance carrier, to let you to make an informed decision. We found it especially helpful to be able to click on the plan name and read very specific coverage details. For their high quality, user friendly website, breadth of insurance packages available, and high customer satisfaction, Squaremouth earns our highest rating."
To find out more about Squaremouth and other travel insurance providers, including reviews and comparison rankings, please visit the Travel Insurance category of TopConsumerReviews.com at http://www.topconsumerreviews.com/travel-insurance.
About Squaremouth
Squaremouth is America's fastest growing travel insurance comparison site, helping customers instantly quote, compare and buy policies from every major carrier. Squaremouth has web sites in the US and UK, and an extensive network of partner sites worldwide. The company is headquartered in St Pete Beach, FL., with offices in Fort Wayne, IN.
About TopConsumerReviews.com
TopConsumerReviews.com is a leading provider of independent reviews and rankings of hundreds of consumer products and services. From cash advances and halloween costumes, to mortgage refinance and nanny agencies, TopConsumerReviews.com delivers in-depth product evaluations in order to make purchasing decisions easier.
###