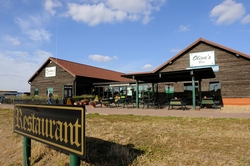 Thanks to our customer feedback, we're often told that our prices are £4 to £5 cheaper than other restaurants where they have been disappointed with the food and service
(PRWeb UK) February 2, 2011
The Rout family opened the Orwell Crossing in 2004 to offer lorry drivers a warm and welcoming rest stop with home from home facilities and better quality and choice of food than was being offered by other motorway service stops. Little did they know that within their first seven years of trading they would attract a customer base that was bigger than most independent businesses could ever dream of.
While the Orwell Crossing is still a safe haven for lorry drivers with 190 parking spaces overlooked by CCTV, its 24-hour opening, first class washroom facilities and numerous forms of entertainment, its local customers make up the majority of the venue's clientele.
Dickie's Restaurant at the Orwell Crossing, which has been nationally recognised as serving the 'Best Breakfast' by readers of Truck and Driver Magazine, has built an excellent reputation on its exceptional food, including the daily carvery at just £6.50 and an extensive menu of traditional favourites, most of which are available for under £7.
Many of the freshly prepared meals include home-grown vegetables from the Rout's family farm and meat from locally based butchers – a welcomed dining experience by locals, tourists and business users, not to mention lorry drivers who are all too often faced with the unhealthy offerings of a greasy spoon.
"Thanks to our customer feedback, we're often told that our prices are £4 to £5 cheaper than other restaurants where they have been disappointed with the food and service," said co-owner Karl Rout. "We're very lucky with the staff we've got which is why we strive to give them every opportunity to develop within our company. Our trainee chef makes the most delicious Belgian chocolate cheesecake!"
The Rout family are delighted to celebrate seven rewarding years on Friday, 4 February when country singer Nicky James will be performing at Olive's Bar from 8.30pm. "This year, the anniversary of our business falls on a Friday, which is the day of our popular country music entertainment – an event which has become a huge part of
the Orwell Crossing's success," said John Rout, who works alongside his brother Karl in the family business.
Since opening, the live music entertainment at the Orwell Crossing has extended to Thursday, Friday and Saturday nights as well as Sunday afternoons due to popular demand. Visit the website to view the venue's varied programme which includes pop, rock, country and live acoustic – admission is absolutely FREE!
Orwell Crossing Lorry Park
A14 Eastbound, Nacton, Ipswich, Suffolk, IP10 0DD
Tel: 01473 659140
Website: http://www.orwellcrossing.com
###