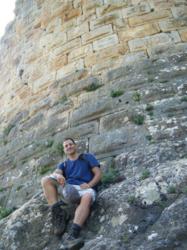 Touring Israel specializes in luxury, custom tours for groups and individuals. Religious, adventurous, and special interest vacations can be catered to travelers' specific interests.
Jerusalem, Israel (PRWEB) April 03, 2012
From traditional religious sites to SCUBA diving, and from architecture to food and wine, Touring Israel customizes trips to fit the interests of groups and individuals. Whether families are celebrating a Bat or Bar Mitzvah in Israel, a church or synagogue is planning a group trip, or those making a return trip to Israel are seeking a unique, off-the-beaten-path experience, Touring Israel creates custom itineraries with travelers' specific interests in mind.
"I believe that a smooth, hassle-free tour from start to finish with an experienced, charismatic and engaging guide is the key to your Israel experience, and that is what Touring Israel provides," said Joe Yudin, Owner/Founder of Touring Israel, 2011 Conde Nast Traveler Top Travel Specialist for Israel, and Jerusalem Post online columnist. "We specialize in luxury Israel tours -- you are the boss. You decide, with our input, what is best for you, and we get it done as you want it. Our unique offers, such as helicopter tours, desert jeep safaris, fine dining, and meetings with journalists, business leaders and government officials, are extra special events that can make your trip to Israel an experience of a lifetime."
The Land of Israel – Any Way You Like It: Touring Israel's guides are seasoned, English-speaking professionals who are licensed by Israel's Ministry of Tourism. Their varying areas of expertise make them the right fit to lead unforgettable tours of Israel:

Jewish Tours: Jewish tours are designed to allow travelers to see the Promised Land through the eyes of the patriarchs, matriarchs, sages, Kaballists, and Zionist forefathers, and explore birthright in their own land. Sites include Kotel (Western Wall), mystical Tzfat (Safed), Masada at sunrise, and the Elah Valley.
Christian Tours: Israel Christian tours enable travelers to walk in the footsteps of the Hebrew prophets, disciples and Jesus. Sites include Capernaum (Peter's hometown), Jerusalem, including the Via Dolorosa and the Church of the Holy Sepulcher, Nazareth, Bethlehem and the Sea of Galilee.
Archaeology Tours: Explore, dig, discover, debate and learn at both famous and lesser known archaeological sites, including the Casesaria Aquaduct, Bar Kochba Caves, Caesaria Roman Theater and the "Solomonic Gate" at Megiddo.
Adventure Tours: Bike, hike, sail, trek, surf, rappel, climb, paraglide, swim, raft, dive, and more. Some options include a dive safari in the Red and Mediterranean Seas, hiking through national parks, rappelling at the Ramon Crater and descending Yehudiya Canyon into a running stream filled with crystal clear mountain water.
Lifestyle Tours: "An Israel tour guide service like ours enables travelers to see the best that the country has to offer in recreation, spirituality and culture," said Yudin. Designed for the more discerning traveler and connoisseurs of the finer things in life, these tours offer an insider's view of Israel's best-kept secrets, including Israeli wine and cuisine, secret hideaways, meditation and yoga in the desert, and cultural and performing arts.
Cruise Excursions: Touring Israel offers a selection of single or multi-day shore excursions for cruise ship passengers visiting both Haifa and Ashdod ports with a private guide. Highlights include taking a dip in the Dead Sea, visiting the Bahai Shrine and Gardens, Jewish Jerusalem, and Christian Jerusalem and Bethlehem.
Private Day Tours: Whether in Israel for business or pleasure, Touring Israel can help travelers who only have a day or two to actually do some touring by offering a wide range of single-day tours that allow travelers to tour Israel and get the most out of their day.
With thousands of sites, activities and attractions travel in Israel can be a different experience with each visit. Touring Israel can help those seeking a luxury travel experience find things to see and do that fit their specific interests, as well as take care of their hotel reservations and all other logistics, from start to finish.
About Touring Israel: Touring Israel began as the brainchild of Joe Yudin in 1997. As a native born American, Yudin had grown up in the retail business, served in the Israel Defense Forces as a Sergeant Major in the Paratroop Corps, and began his career as a Sales and Marketing specialist before delving into the world of tourism. His love of the land led him to become intimate with it and its people. Today, Touring Israel specializes in luxury private tours for families, individuals and groups. It offers custom-tailored, private tours of the Land of Israel with expert tour guides. Touring Israel's premium services focus on offering flexibility and the highest levels of customer service and satisfaction. It is a full service tour operator that can take care of all logistical issues from arrival until departure. More information can be found at http://www.touringisrael.com, facebook.com/touringisrael, twitter.com/#!/TouringIsrael, Touring Israel Blog, or calling toll free 1-877-778-8644.