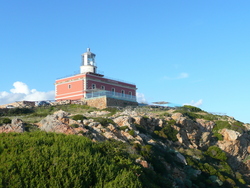 Mothers play an important role in the Italian culture, and definitely deserve to be pampered on Mother's Day.
(PRWEB) April 29, 2011
A fully catered weekend in one of the most unique luxurious hotels in the world is at stake in a Mother's Day contest organized by Italian travel agency Charming Sardinia.
Paolo Rossi from CharmingSardinia.com: "Although Italy is mainly known for their 'godfathers', the mother is the real center of every Italian family. With this in mind, we (a local luxury hotel specialist) decided to let one mother experience how Italians thank their mother."
Anyone can enter the Mother's Day contest, simply by stating why his or her mother (or spouse) deserves to win. A team of 'mother experts' will decide which mother can enjoy a $5,000-value stay in Hotel Faro di Capo Spartivento, a lighthouse hotel which was named 'Top European hotel' by Trip Advisor.
The contest of the Cagliari-based travel agency runs from April 27th until May 5th of 2011. The winner will be announced just before Mother's Day.
# # #