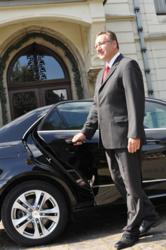 For those travelers in NYC or parts of upstate New York, the new Fairfield corporate offices are closer and more convenient for them as well.
Fairfield, CT (PRWEB) November 30, 2012
A new corporate office has opened up in Fairfield, CT for Shady's CT Limousine Service which provides an extended reach to more cities in the tri-state area. Current locations reside in Ansonia and Shelton, as well as a satellite office in Bronx, New York . The opening of the Fairfield office expands the coverage area for limousine service in Connecticut to make transportation even more convenient for residents, travelers and visitors of the tri-state area.
With a large fleet of vehicles, the Connecticut Limousine Service takes advantage of having multiple locations to to better manage its logistics using its network of vehicles spread around CT & The Tri-State. This is convenient for clients with immediate requirements for car service or a need for a stretch limousine. Requested vehicles will tend to be much more accessible especially with the said location to store some of the more popular limousines. Clients can enjoy the convenience of having a vehicle within their vicinity any time they have a request for transportation. For the more popular airports such as JFK, LaGuardia, and Newark Airports, this move will prove most beneficial to our clientele.
Modern Technology Helps to Stream Connecticut Limousine Service
The technologies incorporated within the locations of Shady's Connecticut Limousine Service include a wide array of logistics and GPS based tracking systems that aid agents in keeping up to date with all vehicle locations and movements. Delays due to traffic, construction or accidents are usually avoided when possible due to agents monitoring road conditions and by keeping the chauffeurs aware of such hazards. Such technologies aid in providing a faster and a much more convenient service to clients. With a closer location to many of these major airports, there is less of a concern about vehicles or chauffeurs getting tied up in traffic.
The corporate offices in Fairfield now make it easier for those that need to meet with one of the agents, whether it is to set up CT corporate limousine accounts, discuss an affiliation or simply to inquire about the service. For passengers that may leave behind a jacket, electronics, or a bag, the Fairfield offices are convenient for many travelers to quickly swing by and grab their belongings when they're in town.
Southern Connecticut Limousine Service Reaches The Tri-State
For those travelers in NYC or parts of upstate New York, the new Fairfield corporate offices are closer and more convenient for them as well. Many travelers are in need of daily transportation arrangements from locations like train stations, bus depots, commuter lots, business meetings, and more. The corporate limo offices in Fairfield, CT provide more flexibility for corporate travelers, especially those needing last minute pick-ups in the city, an airport, a corporate or even a wedding.
As previously mentioned, this location for Connecticut Limousine Service is in addition to pre-established locations in Ansonia, Shelton, Westport, and even a storage warehouse in New York state where many of the luxury vehicles including the Hummer Limousine, Escalade Super Stretch and Limo Bus. Expanding their reach to Fairfield, this CT limousine hire is more convenient for many travelers.