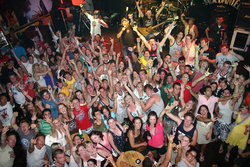 There are no questions asked
Perth, Australia (PRWEB) April 21, 2009
Travellers today face an abundance of options when they choose a touring company. While consumer choice is always good, selecting the right travel adventure can be like flipping a coin. Australian party tour operator, Thirsty Swagman (http://www.ThirstySwagman.com) offers party tour travellers a new kind of peace of mind: a full money-back guarantee, plus a free case of beer, if travellers aren't having the time of their lives after the first 3 days.
"There are no questions asked," says Thirsty Swagman's Party and Events Manager, Karen Logan. "If a traveller on any of our guaranteed tours isn't completely satisfied with the experience we offer, they get their money back--every cent. We even throw in a free case of beer for the trip home. People go on our pub crawls for a good time, and we want to make sure they get exactly what they were expecting."
Dubbed the "Official Thirsty Swagman Hardness Guarantee," the company promises its punters a full refund if, after 3 nights, the tour is not the hardest and most enjoyable travel experience they've ever had.
The first tour to include this guarantee is the company's 2009 Oktoberfest Tour, and it plans to extend this to every tour by the end of the year.
"We believe it's a world first for a tour operator to offer this kind of assurance," says Kenneth Hart, founder of Thirsty Swagman. "It's our promise to travellers that when they book a tour with us, they'll have the hardest party of their life".
With international pub crawl tours departing from London, Miami, Oktoberfest in Munich, and major cities in Australia, Thirsty Swagman offers all-inclusive travel experiences with transport (in some cases flights) 3-star twin-share accommodation, entry to all pubs and bars (with discount drinks available at some), video production, t-shirts, and a private party guide.
About Thirsty Swagman Pty Ltd:
Thirsty Swagman was launched in April 2007 to provide an alternative to the usual sight-seeing and experience tours. All trips by the company offer a purely pub- and bar-based itinerary, usually taking in the local nightlife and covering multiple countries.
For more information about Thirsty Swagman or the 2009 Oktoberfest Tour, please visit http://www.oktoberfestpubcrawl.com or contact Kenneth Hart at +61 8 9257 3898.
Contact:
Kenneth Hart, Chief Swagman -Thirsty Swagman Pty Ltd
Phone: +61 8 9257 3898
Email: press (at) thirstyswagman (dot) com
Web: http://www.thirstyswagman.com
Note: High-resolution artwork, photos and posters are available upon request.
###