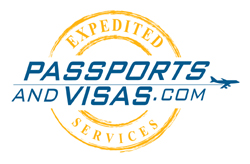 "This enhanced Account Management system will save time and give travel managers access to important travel visa information immediately," Diack said. "It will vastly improve the entire customer experience."
Boston, MA (PRWEB) July 23, 2012
Passports and Visas.com, a leading passport and travel visa expediting service, is unveiling its enhanced account management system at the Global Business Travel Association Convention in Boston July 22 through July 25.
Founded in 1992, the Miami-based Passports and Visas.com provides passport and travel visa expediting services that enable international travelers to expedite a passport or travel visa within only eight hours and obtain real-time tracking of their order 24 hours a day, 7 days a week, 365 days a year.
The dynamic account management system, which will be available for demonstration at the company's exhibition booth at the Boston Convention Center, has recently been enhanced for the traveler, travel manager or administrative professional, now offering:
•Real-time, 24/7 order status of all employees and applications, with the exact status of the application.
•The ability to view detailed passport and travel visa requirements and sample documents.
•The account history of all employees.
•The account history of all orders.
•The ability to view the employee's current valid passport and travel visas online.
•Financial management: users can print invoices, and update payment information.
PassportsandVisas.com Director Philip Diack said that the enhanced account management system will make the process easier for travel and administrative professionals and managers.
"This system will save time and give travel managers access to important travel visa information immediately," Diack said. "It will vastly improve the entire customer experience."
PassportsandVisas.com is headquartered in Miami, with regional offices in Atlanta, Washington, D.C., San Francisco and Denver. A New York City office is scheduled to open later this year.
The GBTA Convention, with more than 6,000 attendees, is the largest, most comprehensive annual gathering of business travel and meetings managers, meeting planners, procurement professionals and suppliers anywhere in the world.
For more information, visit http://www.passportsandvisas.com.