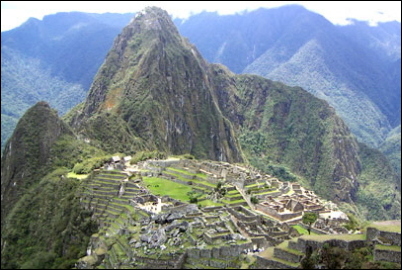 We look forward to what Anthony will contribute to this effort in helping to share the invaluable guidance of our team with even more travelers worldwide.
Dallas, TX (PRWEB) July 26, 2006
Peru For Less today announced that B. Anthony Burroughs has joined the rapidly expanding Latin American travel business as its Chief Marketing Officer. Mr. Burroughs arrives to Peru For Less from JPG, a premium marketing agency focused on high-growth businesses, where he was the Founder and Principal of the firm. Mr. Burroughs also will serve on the Board of Directors for Peru For Less.
"We are thrilled to be able to tap into Anthony's extensive experience in both online and offline marketing," said Director Bernard Schleien. "His track record with his own companies as well as those of his clients makes him the ideal candidate to help guide Peru For Less to the next level and beyond."
As the CMO of Peru For Less, and a key member of its executive team, Mr. Burroughs brings a wealth of entrepreneurial and sales/marketing expertise. His experience in successfully growing his own companies, as well as those of his clients, will contribute to Peru For Less at the right time in the company's swiftly growing upward trajectory. Anthony brings a tremendous amount of key experience in the online and offline marketing worlds as well as the areas of strategic planning, business development, strategic partnerships, sales, public relations, channel management, and E-Commerce.
Taking on the CMO role with Peru For Less is a tremendous opportunity for Anthony to jump into something he is passionate about – travel – and make a difference at the same time, "I am really looking forward to what we will accomplish over the next year and beyond," said Anthony Burroughs. "We will see Peru For Less double in size and make significant impacts as the leader in Progressive Tourism."
Some items on the agenda for the next year are to make significant website enhancements to build more community amongst PFL's loyal traveler base, and to provide a more interactive, user-friendly experience. "It will become increasingly easier for our customers, or travelers as we say, to put together their own combinations of flights, hotels, restaurants, entertainment, and activities they want; and then continue to stay in the loop with us and their fellow travelers," noted Anthony Burroughs. Additionally, Peru For Less plans to expand its services significantly throughout South America and Latin America, and gain recognition as the go-to company for when people want to travel in Latin America and get "more for less."
Applying the background of Mr. Burroughs, Peru For Less also plans to implement a cutting-edge marketing metrics system and build a sustainable sales and marketing infrastructure that will give the firm a significant advantage and ultimately provide more value for its travelers. "After all is said and done, my number one objective is to enhance the experience of our customers, which we call our travelers, and truly create those ongoing magical experiences for them whether they are hiking the Inca Trail, absorbing Machu Picchu, or discovering the wonder of Patagonia."
B. Anthony Burroughs is a serial entrepreneur who has learned that there is more to life than just day to day business. Before taking on the CMO role at Peru For Less, Anthony was the Founder and Principal of JPG, a premium marketing agency for high-growth businesses serving the strategic marketing and CMO roles for venture-backed startups to $200M software firms. He exited from this business in March 2006 and then came aboard with Peru For Less to take a more active executive role than just being on the Board. He sees the opportunity for Peru For Less be a shining example of what a company should be and has dedicated himself to achieving this. Anthony also was the founding member as well as VP Finance and then President for AD&P - a $22.6 million services firm with 108 employees and 4 locations before selling it to a $7.35 billion NYSE public company. He has been the founder of a few other business ventures, including one sustainable real estate fund called The Onus Group, L.P., and has his BA in Political Science and Communications with a Business emphasis from Southwestern University in Georgetown, TX. He also has been a member of the Southwestern University Board of Trustees as well as being active with Big Brothers, Big Sisters and the American Cancer Society.
"We have seen a tremendous amount of growth here at Peru For Less and are optimistic about this next stage in our company's development. By implementing a renewed focus on sustainable tourism at both the company and overall market level we hope to increase the value of Latin American travel for both our travelers and the inhabitants of the countries they visit. Whether through luxury travel, adventure, family, or other inspiring packages; we desire to promote a truly progressive tourism," explained Alison Kraus, General Manager of Peru For Less. "We look forward to what Anthony will contribute to this effort in helping to share the invaluable guidance of our team with even more travelers worldwide."
About Peru For Less
Peru For Less is the leading Progressive Tourism firm with a focus solely on Latin America. Peru For Less is a United States based, worldwide travel firm devoted to providing you the best-value travel packages to Peru, Ecuador, Bolivia, Argentina, Chile, Costa Rica, and Brazil. As one of the only U.S. firms to have local offices and operations, you really do get more for less with Peru For Less. As a company of travelers for travelers, Peru For Less has the strongest testimonials in the market. Please visit and experience "more for less" at http://www.peruforless.com or call us at 877.269.0309.
###