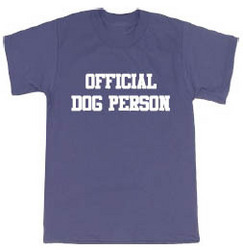 Orlando, FL (PRWEB) November 23, 2008
BringFido.com (http://www.bringfido.com) is a dog travel directory that provides online reservations at more than 25,000 pet friendly hotels through a partnership with Travelocity. Today, the company launched a new and improved website with information on 10,000 more hotels in popular international destinations. With the addition of these pet friendly hotels in France, Germany, Italy, England, and more than 150 other countries worldwide, BringFido.com is now the most comprehensive pet friendly travel website in the world (as opposed to just in the United States).
To celebrate the launch of the new website, BringFido.com will be giving a free "Official Dog Person" t-shirt to everyone who reserves a pet friendly hotel room on the website through the end of the year. Customers just need to enter SMALL, MEDIUM, LARGE, or XLARGE in the gift code box during check-out to indicate their preferred size. Dog owners can also call Bring Fido's toll-free number (877-411-FIDO) if they need assistance finding a pet friendly hotel at the next exit on the highway, a restaurant in Little Italy that allows dogs to sit at its outdoor tables, or god forbid, an animal hospital in Timbuktu that's still open at 4am. Whether you're looking for somewhere to stay, play or eat with your dog, BringFido.com is the place to come.
About BringFido.com
Since launching in April 2005, BringFido.com has helped more than a million people take their dogs on vacation. The website provides online reservations at more than 25,000 hotels, bed & breakfasts, vacation rentals, and campgrounds that welcome pets through a partnership with Travelocity. Dog owners can also turn to BringFido.com for the scoop on off-leash parks, dog beaches, outdoor restaurants, and other animal attractions in more than 10,000 cities worldwide.
Contact:
Melissa Halliburton
melissa(at)bringfido.com
(407) 488-9812
###