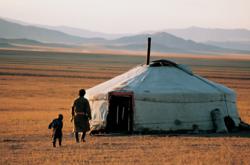 Simply put, there's no other American tour outfitter that deals exclusively with this slice of the globe.
Seattle, WA (PRWEB) January 22, 2013
More than 20 percent of the countries mentioned on The New York Times 46 Places to Go in 2013 travel list are visited by Seattle travel specialists MIR Corporation. Destinations in Turkey, Montenegro, Croatia, Mongolia, China, Lithuania, Czech Republic and Hungary are all cited as top vacation spots. The "National Geographic 10 Best Trips," "CNN Top Travel Destinations for 2013," and "Fodor's 2013 Go List" travel articles also feature MIR Corp destinations. For more information on places to go in 2013, visit http://www.mircorp.com/ or call 800-424-7289.
"Simply put, there's no other American tour outfitter that deals exclusively with this slice of the globe," said MIR Corp founder Douglas Grimes. "And none with more first-hand experience, stronger on-the-ground contacts, or more affection for the region."
Russian travel has been MIR Corp's overriding passion since 1986 when Grimes founded the company. Many of its destinations are still vastly under-explored, but offer an abundance of attractions, like Lake Baikal, the earth's deepest and oldest freshwater lake; the bazaars of Bukhara, stacked with hand-woven carpets; the sharp mountainsides of the Caucasus, where a small valley can be a whole world to its people; and the diversity of cultures in Mongolia, China, and Tibet. MIR Corp tours are designed for travelers not just to "see" a place, but also to tap into the culture.
"We work with a charmed circle of curious and pioneering travelers who share our enduring interest in experiencing the world before change completely overtakes it," said Grimes.
Many regions in which MIR Corp specializes are becoming more accessible as politics improve, luxury hotels and boutique properties emerge, formerly off-limit locales become exposed, and private train journeys infuse the utilitarian rail lines with a new generation of high-end railway cars designed for foreign travelers. Travel to Iran, Mongolia holidays, and Uzbekistan travel are all gaining popularity amongst MIR Corp travelers.
"We are absolutely thrilled to see so many of our destinations becoming more accessible," said Grimes. "However, much of our roster continues to be hampered by fluctuating flight routes, complicated visa regimens, and ever-changing border requirements, so our expertise offers great value to travelers."
For more information on Silk Route Travel, Russian Travel, and places to go in 2013, call MIR Corp at 800-424-7289.
About MIR Corporation
MIR Corporation, whose name means "peace" and "world" in Russian, has specialized in Russia (and neighboring countries) since 1986. Offering scheduled and custom journeys to Russia, along the Trans-Siberian and across the Silk Route, MIR's Seattle-based experts design imaginative trips that take travelers far from the familiar, and work closely with local affiliates in Western Russia, Siberia, Ukraine and Uzbekistan to carry them out. MIR has twice been named one of National Geographic Adventure's "Best Adventure Travel Companies on Earth," and is a preferred operator for museum, alumni and special interest organizations across the country.