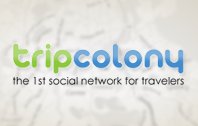 (PRWEB) May 18, 2011
TripColony, the web's newest travel social network, provides a full-fledged social networking experience for travelers. The site allows users to promote their own city or connect with others traveling to or living in their intended destination.
Travelers want more out of their experience than they can get with a guidebook, and TripColony lets users in on the best places to eat, visit, and stay.
Once users sign up, either through a TripColony profile or via their Facebook account, they then select an avatar that expresses their traveling style. Users can then share as much or as little information as they like with fellow members.
Members use the site to plan their trips and to connect with other users. They can post Travel Notes on the site and let people know when they will be visiting an area. Users can search by country of origin to find other visitors, or by interest to find likeminded people out on an adventure.
There are two notice board levels with the TripColony network: the first is for people unknown to the user, where only basic information is uploaded and visible; the second is reserved for virtual friends, where all the information is confidential. Members can save and print everything, from individual posts to the description of an interesting itinerary, in order to take the information with members wherever they go.
What makes TripColony unique is that it focuses on the user's individual traveling style. This way, users can find tips on museums and other art exhibitions by cultural enthusiasts, or the best place to dance the night away from club goers. The site also features family-friendly travel sections as well as providing information for travelers with disabilities.
"The goal of this site is to replace travel guides with up-to-the-minute information from real people with similar interests," founder Angelo Brambilla says. "The suggestions you get from strangers are senseless if they are given by someone who does not share your lifestyle and interests." TripColony lets users get travel advice from sources they trust.
As the site expands, Brambilla plans to add a premium membership option where users can access travel agencies and specialized local guides.
TripColony is free to join today. Sign up and let Trip Colony be your travel advisor!
###