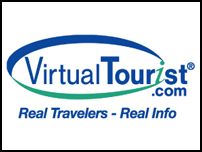 Now, with the new Trip Planner, travelers can simply pluck and save the information they find most useful with just a click of the mouse.
Manhattan Beach, CA (PRWEB) June 21, 2006
VirtualTourist.com announces the launch of a new online tool that empowers travelers to create free custom travel guides for any destination around the globe.
Each month, millions of travelers use VirtualTourist to research and plan upcoming trips and vacations. Now, with VirtualTourist's new Trip Planner, those travelers can quickly and easily save and organize the travel tips and advice they find most useful.
VirtualTourist's custom travel guides can organize travel content around specific destinations--like London, Las Vegas or all of Australia--or by any theme or interest a traveler can dream up, like spelunking, art museums or even honeymoon ideas.
VirtualTourist is the largest online travel guide and travel community, boasting more than 1.3 million travel tips and 2.5 million photos on more than 25,000 worldwide destinations. And since all of VirtualTourist's content is user-generated--posted by real people who have actually been to or live in the destination--travelers are able to browse a variety of opinions and perspectives in order to find tips that speak to their individual interests.
"On VirtualTourist, travelers have access to millions of travel tips, and they can draw from the opinions of thousands of different travelers," says Giampiero Ambrosi, General Manager of VirtualTourist.com. "Now, with the new Trip Planner, travelers can simply pluck and save the information they find most useful with just a click of the mouse."
From surf trips through Costa Rica and sightseeing tours of Rome, to winery excursions in northern California and romantic escapes to Fiji: Wherever travelers are headed, whatever they are interested in, they can now create custom travel guides using VirtualTourist's Trip Planner.
"Because all of the content on VirtualTourist comes from real travelers, it's easy to find a variety of opinions on a hotel, attraction or destination, and then choose the ones you like best. And that's what custom travel guides are all about. It's not just selecting where you want to go, but selecting the recommendations you want to follow," Ambrosi says.
Within the Trip Planner, travelers organize content into folders they name themselves, perhaps "My Trip to Boston" or "Scuba Diving Ideas." Then, within these folders, content is automatically organized into logical sub-folders, like hotels, things to do, restaurants, warnings and dangers, forum replies and more. And before heading out on the road--whenever that may be--travelers can print just the folders they want to take with them.
Since the VirtualTourist Trip Planner allows travelers to create and save multiple custom travel guides, travel researchers can use the tool to store tips for next weekend's getaway, their family's upcoming summer vacation, or even that once-in-a-lifetime trip they may take in retirement.
"If you come across a tip or a destination that you think is really great, you can save it in your Trip Planner until the time is right," says Ambrosi. "Your Trip Planner may end up inspiring future trips or destinations that weren't even on your radar."
"Can you imagine finding a travel guide custom made just for you? A travel guide filled with all of the stuff you're interested in? The stuff you like to do and the places you want to go?" Ambrosi asks. "Well, that's what the VirtualTourist Trip Planner is to you."
About VirtualTourist.com
VirtualTourist is the largest online travel research site and travel community in the world, and a premier resource for traveler's seeking an insider perspective. On VirtualTourist, real people share real advice on places they've traveled as well as their hometowns; they research and plan trips and vacations, and they interact with other avid travelers via forums and email. By the numbers, VirtualTourist boasts 1.3 million travel reviews and nearly 2.5 million photos on more than 25,000 destinations worldwide. Unbiased, user-generated content on Hotels, Attractions, Local Customs, Tourist Traps and much more is posted entirely by VirtualTourist's more than 730,000 registered members from over 220 countries and territories. Among VirtualTourist's awards and accolades: "Recommended Travel Forum," Time Magazine; "Most Popular Guide," Yahoo!
# # #