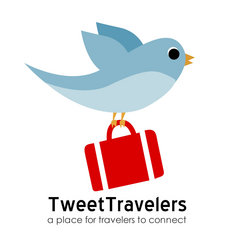 Travelers can dream about travel destinations, share their travels through photos, blogs, videos, tweets and learn more about destinations, trends, resorts, vacation rentals, spas, hotels or hot-topics through travel experts and other travelers.
Dana Point, CA (PRWEB) February 1, 2011
Tweet Travelers was officially launched today as a travel social network for travelers, vacation rental owners, hotels, resorts, travel experts and travel-related services – and as a source of sharing travel experiences and information for all things related to travel.
Tweet Travelers is a free travel-focused social network that includes user-generated travel blogs, travel contests, photos, videos, travel information and featured tweets pertaining to travel. It offers members their own individual blog spaces, travel chat space and the ability to post pictures and videos. Members can also participate in travel discussions and post travel answers, add their blogs and their travel agendas on a home page discussion board. They can also post vacation rentals or hotel information and search for vacation rentals, hotels and resorts in other destinations. All of the activities can be integrated with users' Facebook and Twitter pages. Tweet Travelers users can sign in via their Facebook account, Google or Yahoo account– making Tweet Travelers a convenient online travel social network.
"The idea is to give travelers and everyone else involved with travel a place to connect and share travel experiences and information for free without having to pay a membership fee," said Tweet Travelers founder Teri Morin who has a background in vacation rental travel and international marketing.
"It's an online meeting place for all things related to travel." Morin said. "It's a place for travelers to connect with other travelers, friends, CEO's, celebrities, travel journalists, travel news networks, publicists, vacation-rental owners, vacation-rental sites, hotel groups and other travel-related experts. Tweet Travelers also provides a social network marketing platform for hotels, airlines and vacation-rental owners to connect with travelers and expand their social marketing campaigns and brands. And there's a wide variety of discussion groups on everything from where to stay in Florida to top destinations in Europe."
Tweet Travelers is fast becoming a great place for travelers with a daily expanding network of members from countries around the world – including the United States, United Kingdom, Iceland, India, France, Spain, Egypt and Mexico. All of the new members have one thing in common – a passion for travel.
Members can post travel Travel Videos of their latest properties or vacation experiences, create travel post or photos. For example, HQ Villas – which is headquartered in Europe and specializes in private, luxurious vacation rentals in France, Spain, and Italy – has become a member of Tweet Travelers and featured their videos on TweetTravelers.com. Food, wine and travel writer Julie Munter who recently launched the Food TV Network Wine And Food Festival Cookbook became a member and has shared great travel blog post on the travel social network. A Film producer from Hollywood, Ca has shared his passion for traveling to South Africa. And, Premchit Prateap Na Thalang, internationally certified aromatherapist, organic cosmetics formulator, natural perfumer, acclaimed chef and inheritor of twelve generations of ancestral Siamese healing wisdom and secrets, featured her EXPERIENCE | PREMCHIT Wellness Retreats in Paresa, TripAdvisor´s #5 resort in Phuket, Thailand on the new travel social network.
"Tweet Travelers offers travelers ideas on places to visit through a Facebook style and Twitter Style Integration of featured post and tweets," Morin said. "And it gives travel companies insights on how to direct and shape their marketing strategy. It really creates a unique and interesting travel community."
Current government-issued travel advisories will also be available through the site provided by the British Foreign and Commonwealth Office.
About Tweet Travelers: Tweet Travelers is a social network site focused on travel and includes user-generated travel blogs, photos, videos, maps, travel information and featured tweets. TweetTravelers.com was founded by Teri Morin as a universal site for people who share a passion for traveling around the world. Twitter page is @TweetTravelers. Tweet Travelers has been in beta testing since July of 2010 among a private group of friends and travel industry professionals.
###