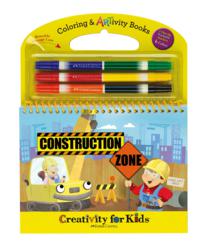 Cleveland, OH (Vocus/PRWEB) March 07, 2011
Spring break travel plans? Ready, set, go! Creativity for Kids offers an assortment of activities that are fun and convenient for kids to do while traveling by car, boat, train or plane to destinations around the world. Plus, they're great to occupy them if there's ever a rainy day while you're away.
Take-Along Coloring & ARTivity Books are compact and complete so kids can enjoy coloring wherever they go. Each book has a sturdy carrying handle and hard back cover, and comes with a set of 3 Faber-Castell Duo-tip markers. These books include the following special features that make them an exceptional experience for children:
-Original illustrations printed on art paper
-Tips and techniques that inspire innovative ways to color and create
-Spiral binding so the pages lay flat for easy coloring
-Perforated pages so artwork can be easily removed from the book and displayed
There are six titles available for kids to choose from – each is $7.99:
-Construction Zone (age 4+) – color in all the favorite diggers, cranes, trucks and other equipment young builders love
-Pet Pals (age 4+) – color in scenes of kids playing with and taking care of pets of all kinds
-Way Cool Diva Doodles (age 3+) - Fashion, fun and designs for girls to draw and color
-Cars, Trucks & More (age 3+) - Cool vehicles from racing cars to retro vans and dump trucks
-Travel Doodle & Do(age 3+) - A passport for going to fun places on vacation
-Princesses A to Z (age 3+) - 26 princesses, from Alyssa eating Apples on an Airplane to Zoë on a Zebra at the Zoo
Two new titles in the classic line also conveniently come with art supplies for coloring on the go:
Cool Metallics Pictures & Designs has 24 pages of quality art paper with cute and trendy designs featuring unicorns, cupcakes, rainbows, and butterflies. The book comes with 5 metallic pencils in a reusable storage pouch. Use the pencils to color on black backgrounds for sparkly effects. $6.99, age 6 & up
Fun Things to Color A to Z contains 24 pages of quality art paper plus 8 bright, washable markers perfect for little hands to color with. The designs are a great first coloring and learning experience as they cover the alphabet from A-Alligators to Z-Zebras and lots of favorite items in between. $6.99, age 3 & up
The name about says it all with Do Art Travel Easel. This portable art studio contains high quality Faber-Castell art materials young artists to travel with and use at the final destination. The set includes oil pastels, markers, colored pencils and sharpener, and a drawing pad, plus chalk, a sponge, and white board marker. The easel has multi-functional surfaces. One side is a chalkboard, and the other is a white board with clips to become a drawing surface using paper. The set is designed with storage in mind, as all materials fit neatly inside when not in use, and the sturdy handle makes it easy to carry. Retail price $29.99, age 5 & up.
Want some soft and fuzzy fun? Then create three adorable sock puppets using the super-soft brightly colored socks in the Make Your Own Sock Puppets kit. Add peel and stick wiggly eyes, an assortment of felt shapes, and huge pom poms. Use the puppets to put on plays with your family and friends. Or try the Make Your Own Animal Puppets version to make a trio of soft and cuddly animal sock puppets to play and pretend with. Both kits have a retail price of $17.99, age 3 & up.
Polka Dot Purse includes an adorable purple canvas tote to decorate with more than one hundred peel and stick dots in different colors and sizes. Personalize your purse with a designer label and add a final touch with a polka dot ribbon at the top. Then use the purse to carry items around during your trip, and to hold souvenirs. Retail price $18.49, age 3 & up
Faber-Castell has a new Color By Number line where the coloring is done with markers, keeping the project neat and easy to do while traveling. Each style has contemporary graphics with lots of appeal, along with the following special features:
-9" square illustration board
-10 Faber-Castell Color GRIP markers
-Easy-to-follow instructions
-Numbered Color Guides to follow a guide sheet for color placement, rather than having numbers printed on the board
-10.5" square mounting board to display the artwork
Faber-Castell Color By Number kits are available at retail for $10.00 each, and they come in 3 styles for kids age 7 and up:
-Color By Number Pop Art Puppies – color in a Warhol-style set of cute puppies
-Color By Number Bloomin' Butterflies – color in a set of butterflies with a blooming flower background
-Color By Number Forest Friends – color in a delightful forest scene with an owl, deer, raccoon and more
2011 is a milestone year as we celebrate 35 years of Creativity for Kids! We are proud to consistently provide a quality experience in all areas of business, particularly in developing innovative, high quality arts & crafts products for children. Our products are available all over the world, giving children the opportunity to create, pretend, and play in ways that encourage self-expression and build self-esteem. All Creativity for Kids products are fully compliant with current U.S. toy safety standards.
Founded in 1761, Faber-Castell celebrates its 250th Anniversary in 2011. The company is an environmentally responsible manufacturer of premium art products for children. Our pencils, markers, crayons, and other art materials are designed to bring out the artist in every child. Our EcoPencils are made from reforested wood from Faber-Castell forests that are FSC certified, a warranty that the wood is obtained from renewable and sustainable sources, contributing to the preservation of the environment.
# # #