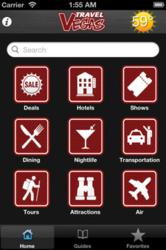 Our Focus is always on the Vegas experience.
Las Vegas, Nevada (PRWEB) May 02, 2012
TravelVegas.com, provider of Las Vegas discounts, is announcing the launch of its new travel app for the iPhone. The app showcases hundreds of fresh discounts in addition to mobile tools designed to make exploring Vegas cheaper and easier. iPhone users can download the app for free; which includes $1,000's in savings.
"The TravelVegas app features custom content and cutting-edge technology that fully leverages our knowledge of the Las Vegas travel market," commented Brendon Schenecker, TravelVegas CEO and Founder.
"Our focus is always on the Vegas experience. By simplifying an overwhelming amount of information in an iPhone app, we are able to help travelers find their way around the city, all while saving them money."
Ideal for business and leisure travelers, Highlights include:
Mobile Deals: Discover discounts on everything from drinks, to casino credits. Find a $5 steak and egg breakfast special, and then plan to see a show with 50% off tickets. Experience the best Vegas has to offer without breaking the bank!
Interactive City Guide: The TravelVegas app allows travelers to explore the city on a multifaceted map that allows the user to sort, filter, and search for just about anything. There are 1000's of places in the app, complete with write ups and reviews to help users plan their Las Vegas vacation. Additionally, users can make a phone call, get directions, or view an indoor hotel map in seconds.
Reservations: Need to reserve an activity on the go? The app makes it easy to view a menu and set up dining reservations, buy discounted tickets, or book a hotel room.
Other features include: travel guides, user reviews, offline mode, nightlife, attractions, manage favorites, access to a 4-day weather forecast, and tons of high-res photos.
The mobile version of TravelVegas compliments the web version trip planning discounts, available at http://www.travelvegas.com/deals
TravelVegas is available for free on the iPhone and in the iTunes store. To download the app for free, click here: http://bit.ly/Jb0QzX
Follow TravelVegas on Twitter http://www.twitter.com/travelvegas and on Facebook at http://www.facebook.com/travelvegas
About TravelVegas.com
TravelVegas.com is an innovative Las Vegas deals website that has the potential to save travelers hundreds of dollars during a trip. Travel Vegas' team continuously hunts down the best deals available, providing travelers with an easy to navigate list of deals, coupons and packages. Currently, Travel Vegas has more than 450 Las Vegas discounts, pulled from hundreds of credible sources. The Travel Vegas company is based in Las Vegas, Nevada. For more information, visit apps.TravelVegas.com.