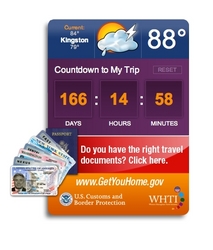 We are using a wide range of media vehicles, in addition to television and magazine ads, to ensure that all segments of the population are familiar with the travel document requirements under WHTI
Washington, DC (PRWEB) October 4, 2008
U.S. Customs and Border Protection (CBP) announced this week a traveler-centric desktop widget as part of the integrated "Let's Get You Home" advertising and outreach campaign. As the traveler's departure date approaches, the automated widget provides a trip countdown timer and weather at the traveler's destination and reminds the user to obtain appropriate travel documents, as required under Western Hemisphere Travel Initiative (WHTI). U.S. and Canadian citizens entering the U.S. from Canada, Mexico, Bermuda or the Caribbean must present a passport or other WHTI-compliant document beginning June 1, 2009.
"We are using a wide range of media vehicles, in addition to television and magazine ads, to ensure that all segments of the population are familiar with the travel document requirements under WHTI," said CBP Assistant Commissioner Thomas S. Winkowski. "A digital strategy component allows CBP to reach audiences that are increasingly using the Internet as their source of news and information, especially related to travel. The widget, because it sits on the computer desktop, provides an ongoing and interactive reminder to travelers to get appropriate travel documents."
The widget is designed so that anyone making travel plans on the Internet can take advantage of the trip countdown and weather functions. The Travel Widget is available to download from http://www.GetYouHome.gov.
U.S. Customs and Border Protection is the unified border agency within the U.S. Department of Homeland Security charged with the management, control and protection of U.S. borders at and between official ports of entry. CBP is charged with keeping terrorists and terrorist weapons out of the United States while enforcing hundreds of U.S. laws.
# # #