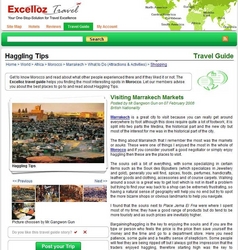 Bangkok, Thailand (PRWEB) February 27, 2008
Early this month, Excelloz.com, unlike most hotels-booking websites, began offering a free online travel guide to give travelers the chance to discover and to get essential information, like places to see, where to eat, events, lifestyles, etc., about towns in Asia, Oceania, Europe, America and Africa through a complete Travel guide. Everyday, it provides more and more information for preparing your trip. It is also very useful to consult trip posted by members including pictures and advices.
This professional travel guide is the first step to plan your trip before booking for an Hotel at discount price, especially on Asia: Thailand, China, Hong Kong, Indonesia, Malaysia, Vietnam, Cambodia, Philippines, Singapore, Japan, Myanmar and Laos. It also gives travelers the opportunity to add text, comments and images for free to any part of the world.
The Excelloz Hotel area allows travelers to find the hotel that they are looking for. Travelers can get all the information they need: description, facilities, pictures, map location and members' reviews which are the best way to avoid bad surprises and to get the most pertinent information.
On this online hotel booking system, you can find the lowest prices negotiated among numerous travel agencies. Some bookings are on request, so Travelers will have to wait only a maximum of 24 hours for a confirmation from hotel. But most bookings are instant confirmation, it means that it will be auto-confirmed, and the number of hotel confirmed on spot increases each day.
That's not all; the online travel website maintains the free Gold Member Promotion that started in 2007 which have been a great success and real economy for members. The offer gives each person who registers on the website a free Gold Member status which means another 5% extra discount on all hotels available on the website. So, this is why top destinations like Paris, Bangkok, Phuket, Singapore and London hotels can be cheaper on Excelloz.com.
The site's customer service is ready to listen and do all the best to satisfy travelers. It is always here to answer questions via telephone, e-mail enquiry or live chat.
The Travelers newsletter is the best way to be on date about promotion and top destinations.
Michael Comglas
66-02-2365309
###