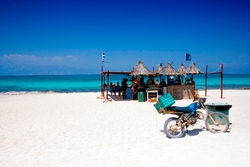 Our guys were all moaning about holiday insurance
Ferndale, WA (Vocus) July 24, 2008
For lots of people, holidays are all about exploring - getting out and about and seeing new places. It's easy to hire a car but to really get off the beaten track you can't beat getting astride a motorbike and taking advantage of lesser known routes. There is a problem though; most holiday insurances class motorcycling along with other 'dangerous sports' and so do not cover the rider for medical or personal accident expenses - ouch!
Adrian Flux Insurance Services has just launched a travel insurance that covers motorcyclists riding abroad, including when hiring bikes abroad. This cover extends to all motorcycles and scooters above 125cc, providing the policy holder has the relevant UK licence. Adrian Flux has expertise in the motor biking arena through its specialist biking division, Bikesure.
"Our guys were all moaning about holiday insurance," says Robert Balls of Bikesure. "They were complaining that motorcyclists weren't covered when they hired bikes abroad and pointed out that the risks for experienced bikers just weren't the same as for holiday-makers larking about paragliding, etc. So we asked our parent company Adrian Flux to look into taking motorcycling out of the dangerous sports category."
And that's just what Flux did. Motorcyclists now enjoy the same cover as regular holidaymakers on Flux's travel policy. That includes medical and other expenses up to £10million, personal accident cover up to £25,000 and legal expenses up to £25,000. Other standard cover includes up to £5,000 if the trip is cancelled or cut short, personal belongings and luggage cover up to £1,500, and more.
For those planning to travel more than once a year, Flux has a multi-trip travel insurance policy that can save a lot of money compared to taking out single trip policies.
Adrian Flux's flexible travel insurance has many options that can be tailored to each individual's or family's needs, so they only pay for the cover they need. The policies are extremely competitively priced. A whole family could be covered for less than £85 for a year - and there's no limit on the number of children included.
To find out more about Adrian Flux's travel policy call free on 0800 089 0203 or visit the Adrian Flux website http://www.adrianflux.co.uk and follow the link to Travel Insurance. For a free no obligation quote, just click on the 'Call me back' button.
Bikesure is 100% British owned and based. It has a huge range of specialist policies for the motorcycle enthusiast, including cheap bike insurance schemes for performance and custom bikes, scooters, trikes, quads and bug riders. For details, freephone the Bikesure quote line on 0800 089 2000, email the company at bikesure @ adrianflux.co.uk or visit http://www.bikesure.co.uk.
Press Enquiries:
Toni Turner or Alison Haynes at The Publicity Works
Tel: 01263 761000
Email: bikesure @ publicityworks.biz
Robert Balls at Bikesure Insurance: 08700 771377
Press information, digital files, photos etc., available on request from bikesure @ publicityworks.biz
# # #