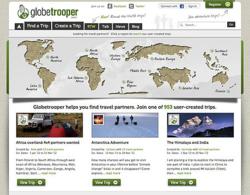 Travelers meet travel companions and trip partners with ease and simplicity at Globetrooper.
London, UK (PRWEB) October 27, 2011
Finding a travel partner is a simple process with the innovative 'Globetrooper Trip Creator.' Adventure travelers and vacationers from around the globe can use the trip creator to locate travel companions, meet friends and join existing trips to the worlds most exciting and exotic locations.
The Globetrooper trip creator has been improved and relaunched in October 2011 and now enables travelers to join or create around the world trips and vacations in addition to creating regular adventure trips.
For single travelers locating a trip partner is a daunting task that Globetrooper offers a serious solution to. Trip organizers use the travel companion to create trip descriptions, upload a trip itinerary and grade each trip by culture, difficulty, risk and remoteness.
Single adventurers and holidaymakers use Globetrooper to select and join a trip that appeals to them and engage with other interested participants.
Chris Blagden, managing director at Globetrooper commented, "Globetrooper offers a clear and simple way for vacationers, event planners and tour operators to meet associates and participants and organize or schedule even the most demanding of trips."
Trip participants at Globetrooper are reliably informed from the outset and use Globetrooper to make friends for vacations, to share journey costs and plan aspects of the trip such as cheap flights, car rental and hotel accommodation as they journey around the world.
For those travelers who operate a travel blog or travel review web site Globetrooper offers a free Wordpress Plugin that slots easily into a blog for the purpose of recording the trip and where they are. As a group member moves around from place to place their location can be updated as the journey progresses.
Travel companions can communicate via private messaging and use the social networking capabilities of Globetrooper to make contact with other adventure travelers, backpackers and fans of global travel.
About Globetrooper
Globetrooper is a travel web site and social network for organizing trips, meeting travel partners and planning adventure excursions around the world. In addition to the trip creator Globetrooper offers destination guides, vacation news, trip reviews and daily content from the exciting world of global travel.
###