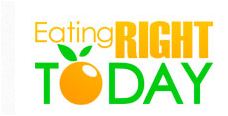 Eat small meals every few hours – avoid going without food for a long enough period to be ravished by dinnertime.
Fort Lee, NJ (PRWEB) January 16, 2013
The newest blog from Marble Media LLC's EatingRightToday.com offers readers new tips from the Academy of Nutrition and Dietetics for dodging the excess that vacations often invite. Travelers taking a cruise, or heading for a destination known for rich local fare are at a heightened risk to derail their diets.
EatingRightToday.com describes a fresh take on vacation eating from Academy nutritionists that leaves some room for culinary decadence, provided the indulgences are in moderation.
Included in The Academy's advice for vacation consumption:

Enjoy the local fare, but if it is rich in carbs, fat and sugar, vacationers should keep portions small and exert some discipline to avoid packing on pounds.
If a meal is served in large portions, split it with one or two other travelers. Travelers should resist the mindset that vacation is an excuse for blowing the diet.
Eat small meals every few hours – avoid going without food for a long enough period to be famished by dinnertime.
Travelers should keep moving. Take a walk, get out of the hotel and see the sights on foot. Physical activity taken can buy the traveler a little more leeway at mealtime. Take advantage of the hotel gym if there is one.
Pack low carb, low calorie snacks in a purse or fanny pack. Nibbling on fruits and veggies will prevent hunger-induced gorging.
Drink water. Avoid juices, sodas, and any beverages with sugar added.
For the nutrition-savvy, common sense will go a long way when it comes to indulging on vacation. The ability to pack on pounds does not take a hiatus. Academy experts say that staying active and nibbling on the right foods throughout the day can go a long way to keeping it healthy without feeling deprived during a hard-earned vacation.
For more information, visit the EatingRightToday.com website or email info (at) EatingRightToday (dot) com.
About Marble Media LLC:
Marble Media LLC is a creator of high-quality, content-rich blog sites that provide expansive coverage of relevant information to readers who make up a wide range of demographics. The Marble Media LLC team of expert writers covers a wide range of specialties including travel, food, health, fitness, social media, marriage, parenting, technology, weight loss, fashion and much more.
For more information on Marble Media LLC's offerings and advertising opportunities, visit the MarbleMediaLLC.com website, or email sales(at)marblemedia(dot)com.
###