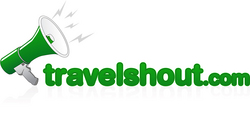 TravelShout truly is the ultimate real-time online chat experience for travel shoppers. First hand advice from travellers anywhere on Earth. Simply brilliant...and free to boot!
Christchurch, New Zealand (PRWEB) May 22, 2008
Today marks the launch of TravelShout, an application that allows users to conduct conversations across multiple websites, and all of this happens in real time.
Many websites offer traditional forums and message boards to foster conversation amongst their users, but TravelShout offers an unprecedented level of social interactivity -- the ability to chat with users from any number of different websites in real time, using the TravelShout box.
Visitors simply access TravelShout through their website of choice and remain on that site at all times. The TravelShout box brings together all the strands of conversations from websites across the TravelShout network and compiles them for users to read and reply.
Webmasters will set the scope of the content shown by the TravelShout box through tags, meaning any website will be able to tailor TravelShout to meet the demands of their audience. Whilst TravelShout is initially offered to travel websites only, it has repercussions for user interaction across the wider web. There are new features currently in development, with more to be added in the future as feedback is received and areas of demand identified.
"TravelShout lets users chat and get advice from people while on the same or different websites...or potentially any internet travel site", explains Chris Shaver, CEO of BookingWiz. "TravelShout truly is the ultimate real-time online chat experience for travel shoppers. First hand advice from travellers anywhere on Earth. Simply brilliant...and free to boot!"
TravelShout offers the immediacy of live chat, with the depth of social networking, to create a powerful and innovative application that allows any website to add a social dimension with no investment and little programming, and looks to redefine social interactions across the web.
For Webmasters
Webmasters can integrate TravelShout's live chat with no investment in time or money -- TravelShout is free and integration is straight forward. It's a simple piece of code that can be added or removed in seconds, requiring only an area of free space on their existing website.
Since users access TravelShout time and again to join and continue their conversations, TravelShout offers webmasters traffic and a high level of engagement. TravelShout can be restricted to just one website, however webmasters are encouraged to experience the full benefits that come with joining the wider TravelShout network.
TravelShout is not only an innovative social tool but also offers a revenue model that will be developed in future versions - for webmasters this means improving earnings potential. TravelShout is partnering with high quality booking search providers to facilitate this service.
TravelShout is in a preview release, and all webmasters interested in learning more about TravelShout and applying to add it to their site are encouraged to visit
http://www.travelshout.com/publishers-info. In coming weeks we will be approving a limited number of sites to control quality and growth, and will be looking to integrate feedback from early adopters.
About Calmer NZ
TravelShout is developed by Calmer NZ, a New Zealand company that produces the travel websites, somuchworld.com and travelbookmarking.com. TravelShout was developed to help foster and develop the online travel community, and is a standalone offering.
CalmerNZ aims to bring together the online travel community and provide it with high quality, relevant information and services that eschew the traditional print model and are only possible by leveraging online technologies.
Media Contact
Ed Lester
Calmer NZ Ltd
+64 33773236
###