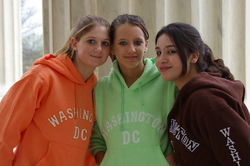 Lapeer, MI (PRWEB) September 23, 2009
Travel Adventures, the Lapeer-based student tour provider, is offering an exclusive tour of Washington, DC during the 40th anniversary of Earth Day. In addition to visiting the Smithsonian Museums and historic memorials, touring student groups will join thousands of people from around the world to celebrate Earth Day 40 and to learn about the governments, corporations and millions of people who are working together to build a global green economy and a brighter future.
Your group will learn about historic advances in climate policy, renewable energy alternatives, and green jobs, while taking part in this historic week in the nation's capital. Options for students during this week are plentiful. Travel Adventures will be continuing to compile a list of activities to choose from as the event nears.
Optional Tour Highlights:

A Global Day of Celebration - April 25, 2010. Earth Day Network will organize 40 major city events around the globe. The flagship event will be held on the National Mall in Washington, DC.
The Marian Koshland Science Museum exhibit Global Warming Facts & Our Future. Students will explore the current facts about climate change, including its potential causes and the possible future effects of global warming.
The Blue Plains Water Treatment Plant- Take a tour of the largest advanced wastewater treatment plant in the world.
Sidwell Friends School Tour - The Middle School Building was awarded a Leadership in Energy & Environmental Design Platinum rating in March 2007. It is the first K-12 school in the United States to have a LEED Platinum rating and the first LEED Platinum building in the District of Columbia.
Merrill Center Greenest Office Educational Program- Take a tour of Merrill Center to see what makes it the greenest office building in the world!
Friends Committee on National Legislation. The Friends Committee on National Legislation's green building is the first green building on Captiol Hill. The building received a Leadership in Energy and Environmental Design Silver Certification in 2007.
Washington Nationals Baseball Game (First Green Stadium) - Seasonal availability
Carbon Offsets for motorcoach travel purchased to aid in renewable energy projects.
"Travel Adventures is creating opportunities for student groups to learn more about environmental issues, conservation and ways to leave a lighter footprint. The Earth Day 40 celebration tour in Washington, DC provides students with the opportunity to learn about our nation's history while participating in events that will shape their future."
John Krish, General Manager - Travel Adventures
About Travel Adventures
Travel Adventures is a student tour provider staffed by educators who understand the needs of teachers. It has served over one half million students since 1987 and its mission is to empower teachers to create change by expanding the classroom to the world. To discover more about Travel Adventures and its many educational programs, visit http://www.traveladventures.com.
###