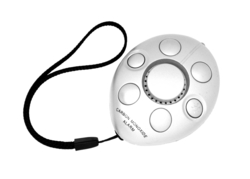 Don't let your children be the victim of carbon monoxide poisoning
(PRWeb UK) May 12, 2010
Taking a travel carbon monoxide detector from DTWI http://www.donttravelwithoutit.com on holiday will hopefully help to prevent holiday deaths from carbon monoxide poisoning (CO) in the future. Every year more deaths are reported from CO poisoning; yet still a great deal of the population does not know much about it. The usual cause is due to faulty central heating and boiler systems, gas appliances, blocked flues and chimneys and car exhaust fumes
With summer fastly approaching and many people planning their holiday's, it is worth remembering the risks of CO poisoning are just as relevant whilst travelling, as they are at home
Everyone takes it for granted whilst staying away from home in villas, apartments, hotels, camping and caravanning that all the safety checks have been implemented and appliances are working correctly, and rightly so they should be; but this is not always the case. For peace of mind, take a travel carbon monoxide detector on holiday and get alerted should there be a problem
A travel carbon monoxide detector will activate and an alarm will sound should there be a dangerous level of carbon monoxide present. Carbon monoxide (CO) gas is measured in parts per million (PPM) and the travel / portable carbon monoxide detector will activate when the poisonous gas it detected at a low level range of exposure 35 – 65 ppm, so it reacts quickly when the gas is present; early enough for individuals to remove themselves and their family from the effected area, and notify the property manager. It is especially important when travelling with infants or young children who are more vulnerable, as with the elderly. Please note travel carbon monoxide detectors are not designed as a permanent fixture
Carbon monoxide is often referred to as the silent killer; it is an odourless, tasteless, toxic gas, and therefore is not easily detected. The travel / portable carbon monoxide alarm detects carbon monoxide at a low level range; and has CE approval. It has been designed especially for travel; it is a small, compact, light weight little gadget, with a loud alarm. It has a small lanyard attached so it can be hung anywhere, making it ideal for camping, no need to worry about screwing it to the wall or ceiling
Do watch out for the following symptoms which may be related to CO poisoning
•35 ppm - The maximum allowable concentration for continuous exposure for healthy adults
•200 ppm - Slight headache, fatigue, dizziness, nausea after 2 – 3 hours
•400 ppm - Frontal headaches within 1 – 2 hours, life threatening after 3 hours
•800 ppm - Dizziness, nausea and convulsions within 45 minutes, unconsciousness within 2 hours, death within 3 hours
•1600 ppm – Headache, dizziness and nausea within 20 minutes, death within an hour
If you feel any of the early warning signs remove yourself from the room and see if the symptoms start to go away
The Travel / Portable Carbon Monoxide Detector is £19.99 and available to purchase at http://www.donttravelwithoutit.com.
For further information please contact:
Portia White
Tel: 01269 822090
info(at)donttravelwithoutit(dot)com
Don't Travel Without It
Carmarthenshire
SA18 1BE
Don't Travel Without It - is an on-line retailer that specialises in travel accessories for the business and personal traveller. Combining usefulness, comfort, health & safety into our range of products.
###