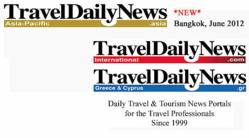 We want to bring a clear and impartial view to anyone interested in travel news from this part of the world.
(PRWEB UK) 3 July 2012
TravelDailyNews announces the official launch of TravelDailyNews Asia-Pacific, a travel and tourism news site penetrating a market in dire need of a news outlet exclusively designed to cover region-specific topics of interest for travel professionals. Online for less than a month now, the site has been received with a lot of interest by readers, already generating a number of daily reads equivalent to established, industry-leading TravelDailyNews websites: TravelDailyNews International and TravelDailyNews Greece & Cyprus.
The content of the TravelDailyNews Asia-Pacific edition is fully independent of the two other sites, featuring region-specific interviews, articles, and market analysis, as well as destination guides on a daily basis. Some of the news focusing on the Asia-Pacific market will be available on TravelDailyNews International as well, however, most of Asia-related articles and news will now be online exclusively on TravelDailyNews Asia-Pacific.
"We decided to move into Asia-Pacific as we believe that the dynamic of this market is unmatched around the world. We also think that there is still a lack of information with international insight in the region. Besides, there are loads of business opportunities between Asia and the rest of the world - not only in the travel sector - and we hope to make a considerable contribution to this growing market," explained Theodore Koumelis, Managing Director.
Chief Editor of Asian Edition Luc Citrinot added: "We know that competition is tough in the market. But we hope that TravelDailyNews Asia-Pacific insight will bring a different light to professionals about business opportunities in the region, as well as strengths and weaknesses of the market. We want to bring a clear and impartial view to anyone interested in travel news from this part of the world."
About TravelDailyNews:
TravelDailyNews (TDN) is a valuable resource for the tourism professionals around the world. Online since 5 July 1999, TDN has been providing credible and relevant information to a mature high interest audience consist of tour operators, travel agents, airline companies, hotels, cruise companies and all kind of hospitality and tourism executives. The group operates three different travel news sites: TravelDailyNews International (in English), TravelDailyNews Greece & Cyprus (in Greek), and TravelDailyNews Asia-Pacific (in English).