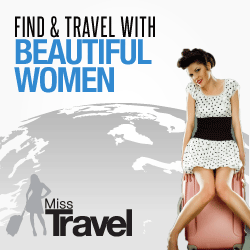 MissTravel.com could have prevented the Colombia sex-scandal because it helps lonely travelers find healthy relationships that will keep them away from trouble when traveling overseas.
Los Angeles, CA (PRWEB) May 01, 2012
Online dating entrepreneur, Brandon Wade, today announces the official launch of MissTravel.com, his new Travel Dating website that promises to help the broke and beautiful meet generous benefactors to fund their dreams of travel.
MissTravel.com is the first of its kind travel dating website that matches Generous travelers, who hate to travel alone, with Attractive people who love to travel but lack the funds to do so. Its marketing pitch is simple: Who needs money, beautiful people travel free!
"While some in the media may be quick to drum up controversy because we are launching MissTravel.com one week after the Colombia sex-scandal," says Brandon Wade, the Founder & CEO of MissTravel.com. "I sincerely hope this website will help lonely travelers find healthy types of relationships that will keep them away from trouble. MissTravel.com is about helping people travel and fall in love."
According to a CNN study, only 30% of Americans have a passport, while far less have ever traveled overseas. However, for those who have put off their plans to see the world because of the lack of "money", MissTravel.com promises to offer an alternate solution.
How Beautiful People Travel for Free on MissTravel.com
Attractive members can sign-up and use MissTravel.com for free. Attractive members send Generous members trip suggestions, and vice versa. Once accepted, Generous members purchase credits to communicate with Attractive members and arrange their trip together.
Alternatively, attractive travel girls can collect Frequent Flyer Miles gifted to them by Generous members. Once an Attractive member accumulates enough miles, he or she can redeem such miles for airline tickets or hotel rooms anywhere in the world.
"Let's face it. It's easier to fall in love when you have the money to create an inspiring romantic setting," says Wade who is himself a frequent traveler. "I firmly believe MissTravel.com will bring about a whole new way for men and women to fall in love, inspired by the alleyways of old Europe, or the lure of the Caribbean sunsets."
For more information about MissTravel.com, please visit our website. For press related inquiries please email press(at)misstravel(dot)com.
About Brandon Wade
Brandon Wade is an online dating expert, author and a serial online dating entrepreneur. Wade has been called "Mr. Sugar Daddy" by the New York Times. He is well known for his successful but controversial sugar daddy dating website SeekingArrangement.com which has been featured on Dr. Phil and the New York Times, as well as his buy-a-date website WhatsYourPrice.com that was profiled on Anderson. Prior to his online dating career, Wade served as a senior executive at various Fortune 100 companies including General Electric and Microsoft. He graduated from the Massachusetts Institute of Technology with both a Bachelors and Masters of Business Administration. Originally from Singapore, Wade is well-traveled and a frequent flier. He is a 1K member on United Airlines' Mileage Plus program, and a Diamond Medallion member on Delta Airlines' SkyMiles program.