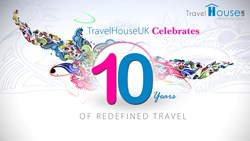 ''Our customers are our pillar of strength and we promise to work tirelessly to improve and enhance their travel experience by making it most economical, affordable and accessible.''- Z A Chahal
(PRWEB UK) 24 October 2013
Year 2013 marks a decade of success for Travel House UK as in October 2013 the company has completed its ten years of outstanding service. Not only the company has catered a benchmark, 1 Million clients in finding their best fight deals online but also celebrated Customer Services Year in 2012 in which the company carefully looked in to all feedbacks, complaints and advises so that the clients can be provided with the highest standard of customer service.
Travel House UK believes that clients are their true ambassadors and this was the confidence behind launching their Client Referral Rewards Scheme. By the Client Referral Rewards Scheme, the clients of the company can earn cash benefits of up to 25 GBP when they refer the service to their friends and family.
TravelHouseUK also shares a strong bond with its prestigious customer. To show the care and concern for their clients a number of lucky draws are conducted throughout the year. In year 2013, twenty seven of their lucky customers won several exciting prizes, gifts and vouchers as a token of appreciation for the loyalty their clients have shown towards the company. This is the reason TravelHouseUK received excellent reviews on third party websites.
The aim of the company has always been to improve the value of money and level of customer care for the clients in helping them find the best of flight deals in a matter of clicks from a wide range of airline options and flexibility of booking and travel class. The CEO of TravelHouseUK holds a strong faith in this very concept as he stated, "Our customers are our pillar of strength and we promise to work tirelessly to improve and enhance their travel experience by making it most economical, affordable and accessible" – Z A Chahal
To improve this experience furthermore TravelHouseUK introduced a mobile app that provides the customers facility of searching flights quite easily from their mobile devices.
With all these services and more the company is striving to improve and increase their facilities that they offer for their clients. The Operations Manager of TravelHouseUK stated," We believe firmly that this success would not have been possible without the trust and support of our client family. We would also like to thank all of our clients for helping us achieve our goals till today and we hope and pray that our clients will continue to be our most powerful support in times to come." – Victor Hunt