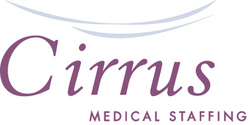 We at Cirrus Medical Staffing pride ourselves in making sure that we not only connect travel nurses, physician assistants, and allied health professionals with jobs, but also that we provide these healthcare professionals with positive life experiences
Charlotte, NC (PRWEB) October 8, 2009
Travel Nursing Agency Cirrus Medical Staffing has been named as a top Travel Nurse Company by Highway Hypodermics for the sixth straight year. Highway Hypodermics is a trusted informational website for travel nurses. Each year they release their list of the Top Ten Travel Nursing Companies.
"It is an honor to be selected to Highway Hypodermics' Top Ten Travel Nursing Companies list for the sixth straight year," said Cirrus Medical Staffing President Greg Allen. "Every year we set out to provide traveling nurses with the best jobs and experiences that the healthcare industry can provide, and it is always good to hear that we're succeeding!"
The Top Ten Travel Nursing Companies are ranked by their benefits, number of votes received on their company profile, and professionalism shown in integrity, honesty, and commitment to service. Highway Hypodermics noted that at Cirrus Medical Staffing "you can expect a professionally fulfilling adventure chocked with lifetime experiences." They went on to say that "(Cirrus Medical Staffing) goes the extra mile to ensure their travelers are safely housed, supported with their issues, and treated with the respect that is deserved."
"We at Cirrus Medical Staffing pride ourselves in making sure that we not only connect travel nurses, physician assistants, and allied health professionals with jobs, but also that we provide these healthcare professionals with positive life experiences," said Allen.
About Cirrus Medical Staffing:
Cirrus Medical Staffing is an award winning Travel Nursing Agency and provider of medical professionals to healthcare facilities across the nation. With offices in Charlotte, Atlanta and Houston, our firm specializes in placing Nurses, Nurse Practitioners, Physician Assistants and Allied Health professionals into travel, contract and permanent employment. Cirrus is ranked as one of the top 10 Travel Nurse Companies in the US. For our clients, our focus is providing a one-stop solution to their staffing and HR needs. Cirrus Medical Staffing is Joint Commission Certified.
Cirrus Allied is a member of the Cirrus Healthcare Group, an international healthcare group specializing in providing US healthcare companies with customized domestic and international staffing and HR solutions. The Group consists of Cirrus Medical Staffing, Cirrus Allied and Medtivia. The companies are all A. Soriano Corporation (ANSCOR) companies.
###