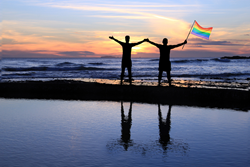 Our partnership with Consularcare is an example of the specialist resources we have brought together to make this product fit for purpose, providing real protection to LGBT travellers as they enjoy their global adventures
(PRWEB UK) 17 August 2016
Emerald Life, the UK's first dedicated LGBT insurance company, has launched its own travel insurance which includes a unique consular assistance service provided by Consularcare.
Emerald Life is the only full-service insurance provider in the UK to offer products designed specifically for the LGBT community. The Emerald Life travel policy is the fifth product in the company's portfolio and covers extensive risks including cancellation, loss of personal baggage (technology and gadgets automatically included), medical expenses, loss of documents, no automatic loading of premiums for HIV+, and 24/7 helpline from Consularcare.
Mike Jones, Consularcare's co-founder and partner, says: "ConsularAssist is a unique solution and an insurance market first. We recognise that travellers may only need consular assistance for something as simple as a lost passport however more complex and serious scenarios do occur. These may include instances such as immigration arrests and being victim of an array of premeditated and random criminal acts. Unfortunately the Foreign and Commonwealth Office is not always able to help. It is a sad reality that some people are targeted for arrest, detention and assault on the basis of their sexuality. In conjunction with Emerald Life, we are able to provide support and assistance in permitting countries if this were to happen to an Emerald Life policyholder."
Emerald Life is unique in its field. By training its call-centre staff, claims handlers are better equipped to respond to the queries that are specific to the LGBT community. The company recognises the diverse family structures that make up today's society. It's also become one of the first companies to offer the gender-neutral title Mx.
Mike explains: "We are particularly proud to be partnered with such a prestigious insurance provider. Emerald Life acknowledges the difficulties many LGBT people face when applying for insurance. Embarrassing health questions, partner gender or assumptions of marital status can all cause unnecessary discomfort. According to Emerald Life's own research, only one in three LGBT regular overseas travellers take out travel insurance. It's unacceptable that talking to call centre staff about LGBT-related matters is cited as one of the reasons for this reluctance to be adequately covered when travelling abroad."
Heidi McCormack, Emerald Life's CEO said: "When we launched in March, we deliberately held off offering a travel Insurance product as part of our portfolio to focus on creating something that was truly unique and completely appropriate to the needs and wants of the LGBT community. Our partnership with Consularcare is an example of the specialist resources we have brought together to make this product fit for purpose, providing real protection to LGBT travellers as they enjoy their global adventures."
For more details of Consularcare and its consular assistance solution visit the website, and click here for an Emerald Life travel insurance quote