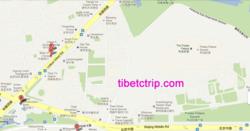 Using Money on Tour in Tibet, Tibet travel advice on currency and Money.
(PRWEB) February 21, 2013
To help travelers prepare for their trip to Tibet, Tibet Ctrip Travel Service (TCTS) has released newly updated information for using money in Tibet. By being aware of the situation in advance, travelers can avoid many of the most common last minute hassles. First and foremost, the local currency is the Chinese Yuan (RMB). With the exception of a few high-end hotels in Lhasa, travelers should not expect credit cards to be accepted. ATMs can be found easily in Lhasa and are, for the most part, reliable.
Many travelers choose to withdraw cash at major banks such as Bank of China. Several travelers have reported luck using International Construction Bank of China (ICBC) ATMs while some foreign ATM cards have been rejected at banks such as the People's Bank of China and China Construction Bank (not to be confused with ICBC). At Bank of China it is possible to take out cash advances via Visa/MasterCard, although this may not be possible at other banks. To avoid problems, it is best to visit the bank before a group's Tibet Tour leaves Lhasa.
If arriving in Tibet from outside of China, travelers can exchange currency at the major banks mentioned above. A passport will be required and, if necessary, a group's native Tibetan guide can assist travelers with the exchange procedure. Many hotels also offer currency exchange, however, the currencies accepted may be limited and the exchange rate may be lower rate than the rates at a bank. When purchasing items on a tour of Tibet, coins are generally not accepted. Travelers with coins from other parts of China may want to spend them before entering Tibet.
It is important to remember that credit cards are, in most cases, not accepted. Many ATM/debit cards have security features that require the bank to alert before the card is used internationally. Since this can be easy to forget, most cards have an international collect phone number in addition to the regular customer service phone number. Tibet Ctrip's native Tibetan guides are happy to show travel groups to an ATM or help with currency exchange. To save time, it is best to let them know upon arrival in Lhasa. By taking the time to prepare accordingly, visitors can enjoy travelling in Tibet without worrying about money related hassles!
Asia travel writer Devin Moore authored this. Feel free to know Devin Moore, an independent economic analyst and travel writer in Missouri, USA.