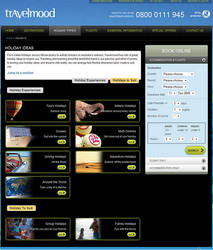 We've listened to our customers and are delighted to be able to deliver them what they've asked for
(PRWEB) December 11, 2009
Long-haul, tailor made holiday specialist, Travelmood has unveiled a completely new look and announced plans to dramatically increase its retail presence with the opening of two travel shops in 2010.
The specialist operator opened a flagship store in Leeds at the end of November 2009, the first to feature the new Travelmood branding. Travelmood Leeds joins the existing portfolio of five travel shops and when two brand new stores open early next year; Travelmood will have a total of eight retail outlets. Over the course of 2010, Travelmood's original stores in Islington, Guildford, Solihull, Bristol and Dundee will be updated to reflect the sleek, contemporary style of the new branding.
The decision to increase its retail presence was taken after Travelmood was acquired by TUI Travel Plc in 2008 and an extensive review of the business and its customers' needs was carried out.
"In spite of the growing trend for people to book and research their holidays online, a lot of our customers have told us that they still want to be able to walk into a shop on their local high street and chat to a real expert about their next holiday," says Rad Sofronijevic, managing director of Travelmood.
"Whilst our holidays are also bookable online and through our call centres we know that, for many customers, nothing beats that personal, face-to-face service, particularly when booking a long-haul, multi-centre trip. We've listened to our customers and are delighted to be able to deliver them what they've asked for in the form of friendly, inspiring and stylish travel shops where they can go for specialist advice from our teams of highly trained expert Travel Advisors."
As part of the major re-brand Travelmood has also re-launched its website, introduced an inspiring brochure collection, appointed a new managing director and added a whole host of exciting holiday destinations and authentic experiences to its range of holidays.
As part of Travelmood's commitment to bringing customers great value for money, it has also launched a range of extrAValue offers. From free room upgrades, nights, meals and spa treatments to early booking bonuses Travelmood's product and aviation contractors are constantly working to negotiate exclusive deals and value added offers that are passed on to customers to add "extrAValue" to their holiday.
The new Travelmood managing director, Rad Sofronijevic, was appointed in May 2009. Formerly First Choice director of retail sales and operations, Rad's 26 years in the travel industry have spanned independent, multiple, retail and on the road experience.
For further information or to book, go to travelmood.com, call 0800 8407 802 or visit a Travelmood store.
###