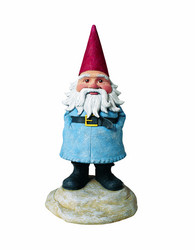 The Roaming Gnome stands for great travel experiences on Travelocity
Durham, NC (Vocus) September 4, 2008
For a third consecutive year, Travelocity's Roaming Gnome will vie for induction into the Madison Avenue Advertising Walk of Fame.
Since 2004 the Roaming Gnome, creation of Travelocity's advertising agency McKinney , has traveled the world as the online travel leader's "spokesgnome," gaining popularity on http://www.travelocity.com, in humorous TV spots and print ads, on favorite social networking sites, at special events and with appearances on shows such as "The Amazing Race" and "American Idol." Now the two-foot-tall icon with a red pointy hat will compete against the likes of Subway's Jared and Maytag's Repairman among 23 other nominees for a spot in the Advertising Walk of Fame.
"The Roaming Gnome stands for great travel experiences on Travelocity," said Travelocity Chief Marketing Officer Jeff Glueck. "We are thrilled the advertising community is recognizing him once again as one of America's favorite icons. We're hoping this is his year. You know what they say, third time's a charm."
Roaming Gnome fans across the nation are encouraged to vote for their favorite icon online at http://www.advertisingweek.com/wof. Voting will begin on Wednesday, August 27, and will end Friday, September 19. Winners will be announced on September 22 at a special press conference at 10:00 AM EST on the corner of 42nd and Madison Avenue. The program is conducted by Advertising Week in partnership with the Advertising Icon Museum which opens in 2009 in Kansas City, MO.
About Advertising Week
Since its creation in 2004, Advertising Week has drawn thousands of participants from around the world to New York City for a week-long think-tank comprised of over 200 different events, panels and discussions that focus on the power of advertising and its neighboring industries. Above and beyond celebration, the mission of the Week is to inspire young people to join the craft, focus the industry and public at-large on the social impacts of advertising, address the most important issues facing the industry and shine a bright light on the business and economic influence of the advertising, media and marketing industries.
About Travelocity Global
Travelocity® is committed to being the traveler's champion -- before, during and after the trip - and provides the most comprehensive and proactive guarantee in the industry (http://www.travelocity.com/guarantee). This customer-driven focus, backed by 24/7 live phone support, competitive prices and powerful shopping technology has made Travelocity one of the largest travel companies in the world with gross bookings of more than $10 billion USD in 2007. Travelocity also owns and operates: Travelocity Business®, for corporate travel; igougo.com, a leading online travel community; lastminute.com, a leader in European online travel; and ZUJI, a leader in Asia-Pacific online travel. Travelocity is owned by Sabre Holdings Corporation, a world leader in travel marketing and distribution.
About McKinney
McKinney is never satisfied simply being a great advertising agency, but seeks to constantly be part of the revolution in how brands go to market. Our goal is to lead the convergence of offline and online (today, 35% of our revenue is interactive and 88% of our frontline staff are actively engaged in the digital space), to identify relevant applications for new technologies, and to deliver the richest, most engaging and most fluid conversations between brands and their best prospects.
Founded in 1969, the Durham, NC-based agency's clients include Brown-Forman Corporation brands including Bonterra, Chambord, Sonoma Cutrer, Southern Comfort and Tuaca; Coldwell Banker, Gold's Gym, Major League Gaming, The NASDAQ Stock Market, Partnership for a Drug-Free America, ProShares, Qwest Communications, Travelocity, Virgin Mobile USA and Virgin Atlantic Airways. Most recently, McKinney announced its management had acquired 100% interest in the agency from Havas, Inc.
For more information, visit our website at http://www.mckinney.com or visit the McKinney Newsroom by contacting Janet Northen at janet.northen @ mckinney.com.
Contact Information:
Janet Northen
Partner & EVP, Director of Agency Communications
Phone: 919.313.4062
Email: janet.northen @ mckinney.com
# # #