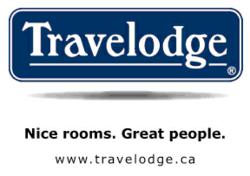 "Nice Rooms. Great People. This is our brand promise and the cornerstone of our success," says Steven Robinson President, Travelodge Canada.
Calgary, Alberta (PRWEB) November 15, 2011
Travelodge Canada hosted a record 140 delegates representing 80 Travelodge & Thriftlodge Canada hotel owners, general managers and front line staff in Calgary October 24 – 26, 2011 at the brand's 11th Annual Canadian Conference.
The three-day event kicked off with a country-western themed welcome reception where all attendees were presented with the iconic Calgary white cowboy hat and sworn in as honorary Calgarians. The brand recap of 2011 and plans for 2012 were unveiled Tuesday morning by Travelodge Canada President Steven Robinson and his executive team. Highlights of the brand presentation included the launch of the new Travelodge.ca and mobile optimized site, the introduction of the new Travelodge Canada Facebook Page, and a social media partnership with the Gemini nominated Eager Brother's Great Canadian Adventure Tour.
Robinson also highlighted the positive performances of Travelodge hotels in Canada and Thriftlodge Canada hotels in 2011 and indicated he is looking forward to continued success in 2012, supported by customer-facing product enhancements including a new top-of-bed standard and an enhanced breakfast offering.
Conference delegates attended a variety of training sessions, including seminars on how to use social media and networking sites to drive revenue, on-line opportunities with Google and Expedia, practical tips on managing employee legal issues, leveraging STR reports to increase the bottom line and industry insider tips on how to buy and sell hotel properties. Marco Reginelli from Google in California shared on-line travel search and buying trends, as well as future-looking plans for Google. Author, radio-commentator and speaker Merge Gupta-Sunderji inspired the group with her breakfast address, "Turning Managers in Leaders".
Travelodge brand performance awards were presented at the final night's gala dinner. The following properties were recognized for their outstanding performance in the areas of operations, revenue management, sales and marketing.
Hotel of the Year
Travelodge Strathmore
Most Improved RevPar Award
Travelodge Hotel Airlane Thunder Bay
Most Improved CRS Contribution
Travelodge Victoria
Outstanding Marketing Award
Travelodge Edmonton West
Outstanding Sales Award
Travelodge Hotel Toronto Airport (Dixon Rd)
Outstanding Sales Award
Travelodge Hotel Montréal Centre
Best Housekeeping Score
Travelodge Strathmore
Best Quality Assurance Score
Travelodge Hotel & Conference Centre Regina
Employee of the Year
Merle Brilz - Travelodge Prince Albert
Employee of the Year
Frank Hackenberger - Travelodge Oshawa
"Nice Rooms. Great People. This is our brand promise and the cornerstone of our success," says Steven Robinson President, Travelodge Canada. "All of our property winners this year have shown exceptional commitment to the Travelodge brand and to our guests."
About Travelodge Canada
Travelodge (Canada), an operating division of Royal Host Limited Partnership, administers the Master License for Travelodge and Thriftlodge in Canada. Royal Host Inc. holds 100% (directly and indirectly) of the voting securities of Royal Host Limited Partnership. Royal Host Inc. shares and convertible debentures are traded on the Toronto Stock Exchange.
Contact
Patti Hunt
Director, Marketing & Communications
Travelodge Canada
403-265-1283
phunt(at)travelodge(dot)ca
###