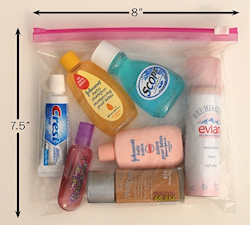 Northborough, MA (PRWEB) February 23, 2011
TravelToiletryKits.com announces the availability of many new travel size and trial size toiletry products.
For example, now available is MB3 (Mini-Bidet 3): Personal Hygiene. MB3 is a soothing external peri-anal cleansing lotion. When applied to toilet paper for the final wipe, it improves personal hygiene without the use of harsh irritating chemicals. MB3 won't dissolve toilet paper on contact and glides easily on the skin.
Also now available is Bed Bug Patrol Luggage Spray. When sprayed on luggage while traveling, it deters the transfer of bed bugs from hotel or other travel accommodations to one's home. Bed Bug Patrol is environmentally friendly and made from all natural ingredients.
TravelToiletryKits.com now also features all natural travel size products from Indigo Wild, including Zum goat's milk bar soap, Zum Kiss Stick lip balm, Zum goat's milk and shea butter body rub, Zum body lotion, Zum Face facial soap and oil, and Zip's Scab Dab all natural antiseptic.
Finally, TravelToiletryKits.com has added numerous other new travel and trial size toiletry products, including Poo-Pourri odor eliminator bathroom sprays, Axe Deodorant body sprays, St. Ives moisturizers and body wash, as well as dental floss, lip balms, shampoos, conditioners, hair sprays, hand sanitizers, bar soaps, and baby care products from a variety of manufacturers.
TravelToiletryKits.com features travel and trial size versions of over 700 popular brands of toiletry items, personal care products, and cosmetics, for both men and women. All of the items available also meet the size requirements of the US Transportation Security Administration for air travel carry-on baggage.
On request, TravelToiletryKits.com can also ship your items directly to your travel destination or hotel so they are there waiting for you when you arrive.
Other items available include deodorants/antiperspirants, hair styling gels, hairspray, shampoo, conditioners, toothpaste, mouthwash, shaving cream, after shave lotion, skin creams, hand lotions, aromatherapy products, moisturizers, body wash, body powders, foot care products, insect repellents, lip balms, sunscreen, suntan lotion, nasal spray, nail polish remover, makeup remover, antibacterial wipes, and others.
Many of the items offered are organic and/or fragrance free.
Shipping within the continental United States is always free for website orders over thirty dollars.
For retailers, sports franchises, charitable organizations, corporations, the entertainment industry, the transportation industry, the travel industry, governmental agencies, hospitals, the US military, and others, TravelToiletryKits.com offers bulk discounts through its wholesale program. A catalog of wholesale items available is attached to this press release and can also be downloaded from the website in PDF format.
For more information, visit TravelToiletryKits.com.
Based in Northborough, Massachusetts, and founded in 2007, TravelToiletryKits.com is committed to providing air travelers and others with an easy, convenient and secure place to purchase all of the travel size toiletry and personal care products they may need.
###