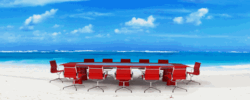 (PRWEB) September 20, 2012
The ISI Group is proud to announce the launch of the newest addition to their roster of companies – Travel Solutions.
The ISI group has provided corporate incentive travel and corporate event planning services for years, but they were all sold as a full-service package. Dan Leong, The ISI Group's Vice President of Product Development and Marketing says, "Recently there has been a greater demand for the ability to only purchase specific components of our travel and corporate events planning services. We realized that not every customer needs a full-service meeting and planning services package, some just need help with something as simple as online registration or meeting logistics. Travel Solutions was created to meet any of those needs."
Travel Solutions now offers a variety of different services to corporate events and meeting planners, including:

Site Selection and Hotel Contract Negotiations
Corporate Meeting Planning and Event Management
Staffing
Registration and Event Management Technology
Group Air Ticketing
They're even offering a frequent user reward program, Passport Points, where clients earn points when they use Travel Solutions to help with their corporate event planning, or when they send them successful referrals.
Mark Herbert, President of The ISI Group says, "We've redefined our business model so that we can meet any of our current and future clients' needs. With the economy being what it is, not every business can justify the expenditure of a full-service corporate meeting planning package. Our á la carte approach helps us remain relevant to our consumer base without sacrificing any of our industry relationships, or the quality of service we're most known for."
About The ISI Group
Based in Atlanta, GA, The ISI Group of Companies (ISI) was created to bring together various companies within the incentive, recognition and corporate meeting arenas, all under one roof.
In 1994, Incentive Solutions' managing partners started the company to focus on the incentive travel needs of their customers. Through the years, they grew the company by consulting with their clients on the hottest trends and locations with which to award their sales people or customers.
In 2005, The ISI Group launched RewardTrax, a web-based platform that manages loyalty and recognition programs. RewardTrax is a powerful and flexible program management solution that offers point-based merchandise programs, as well as reloadable or one-time funded prepaid debit cards.
In 2009, ISI purchased the assets of Loyaltyworks. Loyaltyworks was a 30-year-old loyalty and recognition business that provided merchandise and certificate based reward platforms to a wide range of clients. After the acquisition, all clients were migrated over to the RewardTrax system, which offered a broader range of products to the existing client base. Today, Loyaltyworks, utilizing the RewardTrax system, is the merchandise division of The ISI Group.
This Release Put together by On Page One Marketing an Atlanta based search engine optimization company (SEO)