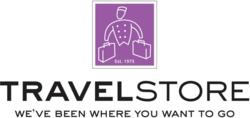 Our new image is meant to bring a fresh and more contemporary look that still speaks to our mission: serving the travel needs of discerning travelers
Los Angeles, CA (PRWEB) August 28, 2012
Employee-owned TravelStore, one of the nation's largest travel agencies and a member of the Signature Travel Network, has launched a rebranding campaign including a new luxury travel website and an updated, more modern image under the new URL: travelstore.com.
"Our new image is meant to bring a fresh and more contemporary look that still speaks to our mission: serving the travel needs of discerning travelers," said Wido Schaefer, CEO.
TravelStore's previous logo featured a graphic image of a hotel bellhop, which has been updated. "The bellhop has long been associated with TravelStore, and has meant to convey both the service culture of our company, as well as the more affluent clientele that represent our core market," said Dan Ilves, Vice President, Leisure Sales & Marketing. The new bellhop image is more contemporary and stylized. "Our new logo conveys a sense of being on the move, better connoting the act of traveling," said Ilves.
The new branding was developed at the same time TravelStore decided to build a new website. The new site is built around promoting the agency's experienced travel consultants and highlighting their expertise. Each consultant has their own profile page on the site featuring their travel journal posts, customer testimonials, specialties and a photo gallery. The site is designed to enable clients to select the vacation specialist best suited to their desired destination or travel needs.
"The internet has provided so many tools for today's world traveler, yet it's the professional travel agent, and the supplier relationships they have, that can best facilitate the creation of seamless and enriching vacations that ultimately provide the most value," said Ilves.
TravelStore's new website features over 80 of its luxury travel experts, both employees as well as independent contractors, who are based at its seven California branch locations. Online leads are electronically distributed among the agents based on their areas of expertise.
"The growth we've seen in online leads is a testament to the fact that consumers want assistance with their travel plans," said Schaefer. "Obviously, the more complicated the itinerary, the greater their need."
TravelStore produced a video to communicate the company's new look which is presently featured on the Travel Experts page of its new website as well as its TravelStore YouTube Channel: TSVacations. The company recently celebrated its fourth consecutive award from the Los Angeles Business Journal as one of the Best Places To Work in LA, and received the Readers' Choice Award from Los Angeles Times readers as Best Travel Service.
About TRAVELSTORE
Employee-owned TravelStore is a member of Signature Travel Network and a BCD affiliate. Established in 1975 by Wido Schaefer, TravelStore has grown to be one of the nation's top travel agencies, specializing in leisure travel, honeymoons and destination weddings, and corporate travel management. For more information visit: travelstore.com or call 888-761-7447.