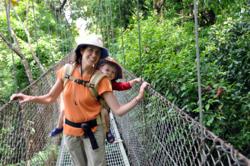 "We didn't plan it this way, but as my youngest child was turning two years old, I realized he'd already traveled every mile of I-5 between Vancouver, B.C. and San Diego—in both directions."
Pasadena, CA (PRWEB) February 01, 2013
The North American Travel Journalists Association (NATJA) has announced that Shelly Rivoli's "Travels with Baby Tips" blog won the 3rd place Bronze Award in the 2012 Annual NATJA Awards Competition in the Travel Blogs category. This awards competition, now in its 21st year, honors the "best of the best" in travel writing, photography and promotion that cover all aspects of the travel industry worldwide.
Rivoli's "Travels with Baby Tips" blog launched with the publication of her 320-page guidebook Travels with Baby: The Ultimate Guide for Planning Trips with Babies, Toddlers, and Preschool-Age Children (Travels with Baby Books, 2007), and has since grown an international following of parents, ex-pats, military families, and others who look to the blog for travel advice and recommendations for travel with babies, toddlers and young children.
The Travels with Baby Tips blog offers up a mix of practical how-to advice (eg. tips for taking the New York City subway with a stroller or what you can do if your child's car seat doesn't fit in the airplane seat) and features of kid-friendly destinations and recommended activities (eg. Kauai's best beach for babies and toddlers or a visit to La Paz Waterfall Gardens in Costa Rica). Rivoli also uses the blog to answer the many questions streaming in from parents planning travel in the U.S. and abroad in her recurring Ask Shelly blog posts.
In December of 2012, the entire Travels with Baby website, which provides baby travel gear recommendations, and a comprehensive section for travel planning (including family-friendly hotel and vacation property recommendations, a worldwide directory of baby gear rental agencies, an index to online tips for flying with a baby or toddler, and more in addition to the blog, won 2nd place in Best Family Travel Sites in the Red Tricycle Totally Awesome Awards.
Shelly Rivoli's guidebooks (including also Take-Along Travels with Baby: Hundreds of Tips to Help During Travel with Babies, Toddlers, and Preschoolers, 2010 by Travels with Baby Books) have won honors and accolades including a NAPPA Gold Award in Parenting Resources, a NAPPA Rising Star Award, and both have been named finalists in the Book of the Year Awards from ForeWord Magazine. Her family travel advice and tips continue to be featured in numerous magazines and newspapers, including Parents, Parenting, American Baby, Los Angeles Times, Boston Globe, and TimeOut New York Kids; and she's been a guest on radio and TV discussing tips for family travel.
NATJA Awards recognize excellence in travel writing, photojournalism, social media, multimedia platforms, advertising, marketing and public relations for the travel and tourism industry. This year, NATJA received more than 500 submissions from all over the world.
While bronze-winning travel blogger Shelly Rivoli says she'll be the first to admit that, "Traveling with young children is not always easy," she asserts that, "spending time together away from the everyday routines and distractions at home has allowed us to connect as a family in important ways I think will benefit us for years to come. That's why I want to continue helping other families do the same and have their best adventures together possible."
Since taking her first flight as a parent when her daughter was only 5 weeks old, Shelly Rivoli has traveled by plane, by train, by bus, by boat, by subway, by elephant and long-tail boat, and she holds the distinction of having changed diapers on four continents. No stranger to road trips as well, Rivoli adds that, "We didn't plan it this way, but as my youngest child was turning two years old, I realized he'd already traveled every mile of I-5 between Vancouver, B.C. and San Diego—in both directions." Shelly lives in the San Francisco East Bay Area with her husband and three children.
For more information about Shelly Rivoli and her Travels with Baby Tips blog, visit http://www.TravelswithBaby.com. To request an interview with Ms. Rivoli or additional photos for publicity, please refer to the contact links above.
# # # #