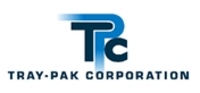 We were hoping that the mailer would at least get their attention
Reading, PA (PRWEB) March 25, 2009
To announce their new clean room production capabilities, Tray-Pak wanted a unique way to get the message to the medical devices industry. The well-known custom thermoformer of trays, clamshells and other plastic packaging decided to take a shot at producing their own concept box. The campaign proved to be just what the doctor ordered.
Sourcing pens that looked like hypodermic needles, Tray-Pak used their proprietary Fusion-Pak technology to design and manufacture a package that bonded thermoformed trays with printed board panels. They also added a combination lock dial to the cover of the 7" x 3" x 1.5" hinged box. The message - "For packaging that can safely protect and present your product, give Tray-Pak a shot" - was followed by an invitation to packaging engineers to tour Tray-Pak's new ISO Class 8 clean room. Within a month of the mailing, over 20% of the recipients had taken or scheduled a tour. Since then, nearly a quarter of those companies have requested quotes from Tray-Pak.
"We were hoping that the mailer would at least get their attention," commented Tray-Pak president Randy Simcox, "But the number who actually took us up on the invitation to meet with us and tour the clean room was surprising."
Graphic Design USA also honored the direct mailer with a 2009 American Package Design Award.
This wasn't the first time that the versatile thermoformer had produced its own direct mail campaign. In 2004, they focused their marketing on getting through doors that their sales force hadn't been able to open, mostly high-level executives and packaging engineers for major brands. Working with their ad agency, The Slocum Group, and a "dream list" of prospects provided by their sales force, Tray-Pak produced and mailed a series of seven thermoformed "books" to showcase the full range of their growing capabilities. Each volume focused on a different customer priority, and nestled in a custom-molded cavity was a product that symbolized that copy point. The array, which included magic tricks, designer fragrances, mini-tools, gourmet chocolates and kaleidoscopes, accomplished that while demonstrating the ability of Tray-Pak to package virtually anything.
According to the manager of North American packaging supplies for a major cereal company, everyone in his department would gather around each mailing to see what it contained; ultimately the campaign earned Tray-Pak a meeting with the company's entire packaging engineering department. Another prospect, the president of a large candy company, called after the fourth mailer to invite Tray-Pak to quote on packaging for a new product. By the end of the campaign, contact had been established with 40.9% of the recipients.
Tray-Pak plans to continue using direct mail in their marketing, along with advertising in trade magazines and exhibiting at trade shows for the medical devices, electronics, consumer products, confectionery and bakery industries.
"The direct mailers are fun," commented Simcox. "They give us a chance to package what we preach."
View the award-winning direct mailer at http://www.traypak.com/.
###