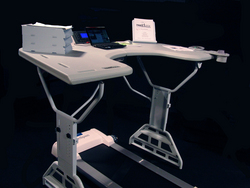 Diabetes is one of the most tangible damaging effects of obesity. People who are very obese have four to five times the risk of developing diabetes than people of normal weight
Phoenix, AZ (Vocus) December 16, 2009
Rates of diabetes are climbing across America due in large part to the alarming parallel climb in obesity rates. Despite this rise the American Diabetes Association has stated that the rate of diabetes could be cut in half with adequate amounts of exercise, proper diet and lifestyle. However this information has gone unheeded both by a majority of employees and employers. Noting the negative impact of sedentary occupations on health, companies are searching for creative methods of re-introducing movement into the workspace. TrekDesk is helping blaze the trail.
"Obesity and diabetes are basically the two conditions of greatest concern for U.S. adults right now," said Edward Gregg, chief of epidemiology and statistics in the CDC's division of Diabetes Translation. "We think these increases in obesity and diabetes partially reflect the cultural shifts that are affecting all of us."
The largest cultural shift affecting our nation has occurred in just one generation. During the 1960's there wasn't an obesity epidemic and the diabetes levels were much lower than today. What changed? Activity levels mainly. Two hour commutes, sedentary desk jobs and home recreation have translated into a burgeoning health epidemic.
"We burn, on average, 600-700 calories less per day than during the 1960's", states Steve Bordley, CEO of TrekDesk.com, a treadmill desk manufacturer. "That equates to a pound of potential weight gain per week, and with weight gain comes the increased incidence of heart disease, diabetes, cancers and a host of other health concerns."
TrekDesk, available at http://www.trekdesk.com is a full sized, height adjustable, work station attached to existing treadmills that allows employees to walk while they work without sweating and re-introduces movement back into the work environment.
"We have engineered movement out of the work place and are suffering the enormous health consequences as a result," states Bordley, " we need to reverse this trend as quickly as possible and allow employees an opportunity to regain their health, TrekDesk was designed with this in mind."
"Diabetes is one of the most tangible damaging effects of obesity. People who are very obese have four to five times the risk of developing diabetes than people of normal weight," according to Gregg.
Employers are concerned not only for the welfare of their employees but also the increasing burden of rising health care costs. The medical costs of obesity in the United States reached $147 billion in 2008 according to the CDC and individuals diagnosed with diabetes have medical costs that are more than double the general population.
The CDC estimates that 8 percent of U.S. adults have diabetes, and another 5.7 million have gone undetected. Creative solutions to re-introduce movement into the work day are desperately needed. TrekDesk offers a unique solution that has been well received in the market.
"We offer TrekDesk at a fraction of the price of competing models," (only $479) states Bordley, "and have had a tremendous response from customers, especially those who did not initially realize the dangers of sitting in a chair all day or the ease of walking slowly while working."
CONTACT:
Steve Bordley
TrekDesk
Ph: 877-449-8588
FAX: 877-449-8588
http://www.trekdesk.com
###