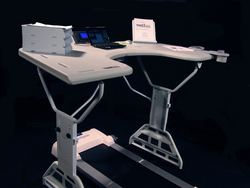 TrekDesk allows individuals the opportunity to walk while they work requiring no extra will power or commitment of time.
Phoenix, AZ (Vocus) December 2, 2009
Women in high risk groups for developing breast cancer are often given medications that reduce a particular genome of breast cancer but increase their risk for other breast cancers and blood clots according researchers from Oregon Health & Science University. Their findings were published in the September 15th issue of the Annals of Internal Medicine.
"We found the that the three drugs actually did reduce the risk for invasive breast cancer by 30-68%," stated Dr. Heidi D. Nelson a research professor at the University. The three drugs referred to included tamoxifen, raloxifene, and tibolone. The researchers cautioned however that these drugs also had potentially dangerous side effects.
Daily walking has been shown to be more effective in reducing breast cancer risks without dangerous side effects in numerous studies. According to a 20-year Nurses' Health Study of 72,000 female nurses, walking for three hours a week, a mere 30 minutes a day is associated with a reduced risk of breast cancer.
Another study published in the New England Journal of Medicine focused on 26,000 women and found similar results with the risk of breast cancer reduced by 72%.
Tamoxifen was found to lower the risk of ER-positive breast cancers while raising the risk of developing ER-negative breast cancer ( a much more aggressive form of breast cancer) in breast cancer survivors. More alarming tamoxifen and raloxifene boosted blood clots by 60-90%.
Walking daily, as allowed by a treadmill desk at work, has been proven in numerous studies to not only reduce the risk of contracting breast cancer significantly but also reduces the risk of developing blood clots at the same time.
The challenge seems to be finding the time to walk a sufficient amount of time during the day to achieve a level of fitness and prevent disease. "The number one reason cited by Americans for not exercising is lack of time," states Steve Bordley, the CEO of TrekDesk.com, a treadmill desk manufacturer. "Reason number two is lack of motivation. TrekDesk allows individuals the opportunity to walk while they work requiring no extra will power or commitment of time. At the end of the day employees have not only completed their work, they have taken a big step towards restoring their health and losing excess weight."
CONTACT:
Steve Bordley
TrekDesk
Ph: 877-449-8588
FAX: 877-449-8588
info(at)trekdesk.com
http://www.trekdesk.com
###