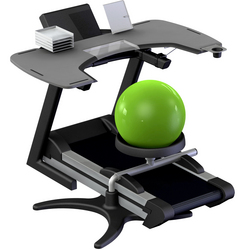 Walking is one of the best relievers of stress however when workers are already pushed for time planning for exercise actually adds to stress levels by becoming one more task in the que
Phoenix, AZ (Vocus) October 27, 2008
Recession, market crashes, housing crisis, rising prices, layoffs; in today's world stress is a constant companion. Too many of these stress alarms in life ultimately results in a state of distress, vulnerability to back pain, stomach upset, sleep disorders, high blood pressure, disease, depression and heart ailments.
"Stress is inevitable given the current economic events in the United States but there are literally steps that can be taken to reduce the stress levels while positively impacting health and productivity. Treadmill desks allow our bodies to recoup from the potential physiological dangers of stress, boost our mood and immune systems and allows us to fight another day," states Steve Bordley, President of treadmill desk manufacturer TrekDesk , available this coming Spring.
A survey conducted by Yale University, prior to the current economic meltdown, showed that 26% of workers rated their job as extremely stressful. Concerned employers are keenly aware of the cost of stress on American business which has been estimated by OSHA at $300 billion annually, three times the cost of obesity.
"Walking is one of the best relievers of stress however when workers are already pushed for time planning for exercise actually adds to stress levels by becoming one more task in the que," according to Bordley.
Solution? Exercise must be consistent, automatic and easy to incorporate into the work day. Treadmill desks offer a consistent means of daily moderate exercise without requiring additional time during the day to head for the gym or plan a workout.
The physiological effects of walking also reduce stress as proven in a study published in the Annals of Behavioral Medicine indicating regular, moderate exercise significantly reduced stress levels when compared against study participants who did not engage in an exercise program or, surprisingly, participated in strenuous exercise regimens.
With a recession expected to increase the stress levels of Americans well into the first quarter on 2009 it is reassuring to know that TrekDesk will be there to help fight the inevitable.
ABOUT TrekDesk: manufacturer of the first affordable full sized, adjustable workstation designed to fit your existing treadmill and allow you to walk while you work, burn calories without sweating and enhance your health.
CONTACT:
Steve Bordley
TrekDesk
Ph: 877-449-8588
FAX: 877-449-8588
info @ trekdesk.com
http://www.trekdesk.com
# # #