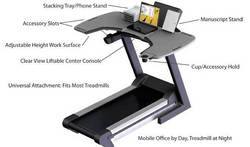 Treadmill desks have allowed users to lose as much as 50-70 lbs a year by encouraging walking throughout the work day at slow speeds without sweating
Phoenix, AZ (PRWEB) August 12, 2008
A growing roster of medical experts and an impressive body of scientific research cite the most comprehensive and affordable solution to America's expanding waistlines and astronomical health care costs may be the use of a treadmill desk at work. A corporate wellness company in Phoenix, Arizona agrees and is launching a new product called TrekDesk to answer this need.
A universal workstation that attaches to existing treadmills, TrekDesk allows users to walk and work during the day at the office or at home. "Treadmill desks have allowed users to lose as much as 50-70 lbs a year by encouraging walking throughout the work day at slow speeds without sweating," states TrekDesk founder and CEO, Steve Bordley.
There are many additional benefits to using a treadmill desk besides the weight loss according to Bordley. A study from the CDC (Center for Disease Control) found that walking a mere 3-4 hours a week reduced mortality from all causes by 54%. "The amount of medical evidence focusing on the curative powers of walking is overwhelming, it is no coincidence that our ever increasing sedentary lifestyles have led us down a road of ill health. The good news is that road can be reversed with proper dietary selection and daily walking."
Much of the medical evidence Bordley refers to can be found at TrekDesk's website http://www.trekdesk.com. "Many of these medical studies have shown that when we sit not only does our metabolism slow but also our lymphatic and digestive systems which cleanse our bodies of toxins and wastes lose efficiency as well, which may greatly increase the incidence or likelihood of disease. Nature designed us to walk not sit. Chairs are basically killing many of us slowly each day."
Daily walking has been shown to increase energy levels, productivity, libido, improve mood, reduce stress, enhance sleep, strengthen back, leg and core muscles, increase blood flow, combat disease, aid digestion, prevent a multitude of cancers including breast and prostate, improve cardio-pulmonary system efficiencies, bolster the immune system, lower blood pressure, increase good cholesterol (HDL) and lower bad cholesterol levels (LDL), reduce the risk of coronary disease and stroke, fight osteoporosis, reduce the risk or impact of diabetes, assist in rehabilitation following surgeries or chemotherapy, reduce back pain, reduce risk of dementia and alzheimers, even increase life span.
That is quite am impressive list. So why aren't people walking more? Two main reasons according to Bordley, available time and our society's dependence on a pharmaceutical answer to health.
TrekDesk answers the time issue easily, since people use it at work it does not require a commitment of any additional time, "in essence you burn more calories than you would with an intense two hour work out, without sweating, waiting in line at a gym or sacrificing time with family and friends. Also, this is a no fail proposition, we have all started exercise programs and quit but we still go to work each day. TrekDesk is always there waiting for you to start your work day. It is automatic, and self reinforcing, it just feels better to walk than to sit."
Our culture's reliance on the hope of miracle drugs is admittedly a tougher mindset to break. "If walking were a drug, we would call it a miracle cure and everyone would be clamoring to buy it. Our bodies have more power to cure ourselves than any drug, if we are willing to make the changes to our lifestyle."
Bordley should know, after a tragic accident forced him to battle from a wheel chair the added pounds over the years became harder to shed due to the lingering effects of his injury. Within the first three months using a treadmill desk he lost 23 lbs and eliminated his back problems altogether. "I am a convert now, I can't imagine sitting in a chair all day ever again."
Designed for both the individual home and commercial office markets TrekDesk incorporates an array of ergonomically designed accessories including an exercise ball chair that strengthens core muscles while sitting, manuscript/book stands, stacking trays topped with a phone stand, cup/accessory holders, and a vertical file attachment. "Once you place your work or hobbies on the TrekDesk, the rest is automatic. You turn on the treadmill and just start working and walking. You leave work feeling more energetic, productive, with the knowledge you enhanced your health and burned a lot of excess calories as well."
Featuring a simple out of the box assembly (no tools required) TrekDesk attaches to any treadmill featuring an average length parallel extension arm. An easily adjustable mechanism allows you to set your work surface for the proper ergonomic height for walking and working. A clear view center console allows visibility of treadmill controls and lifts easily for control access allowing use of your treadmill as a workstation during the day and exercise machine at night.
TrekDesk, finally the weight is over.
###