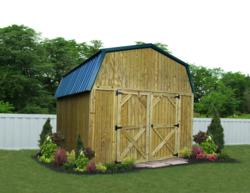 If you can dream it, we can build it.
Charlotte, NC (PRWEB) April 30, 2013
Already well known for their high-quality metal and vinyl storage buildings with many customizing options, Liberty Storage Solutions introduced their new line of treated wooden utility sheds and barns just as the busy spring season opened. The new line of treated storage sheds and garages is just another addition to the long line of outdoor structures available from the North Carolina builder.
Today, walking on to one of the Liberty Storage Solutions lots is like walking through a neighborhood of miniature homes. Metal, vinyl, and wooden barns, treated sheds and barns, playhouses, utility storage sheds, gazebos, prefab vinyl garages, and swing sets of various sizes line the lots creating an impressive display of storage opportunities. Yet, it is the various options and customizable additions that make the diversity of the lot models so impressive.
From added porches and transom windows in doors and dormers to electric wiring, cupolas, and weather-vanes, the Liberty Storage Solutions buildings range from basic and functional to extravagant and recreational.
"If you can dream it, we can build it," says the marketing team. "Satisfied customers have come looking for anything ranging from a typical storage shed to put their lawnmowers and garden supplies in to a luxury playhouse for their grandchildren – complete with shutters, a porch swing, and flower boxes. We get requests for buildings that will be used as mancaves or barns for livestock, but lots of people just need extra space for their belongings."
Besides the non-painted treated storage sheds, Liberty Storage Solutions offers a fresh array of colors to choose from when picking out or custom ordering a building. And though each is handcrafted, management is pleased to announce new affordable rent-to-own prices on each of the buildings including the new line of pressure-treated sheds and garages.
"We're a family-owned and operated business, and we strive to make our customers feel like family as well," says owner and manager of the family owned-company based in Statesville, NC.
Whether looking for something specific or uncertain of the type of portable storage building that would best suit ones needs, Liberty Storage Solutions seems ready to assist anyone who comes through their doors in choosing their perfect building.