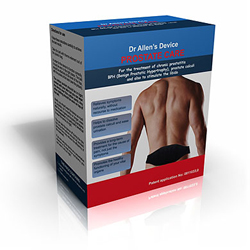 Dr. Allen's Device increases blood circulation in the prostate that helps with cleansing it from extra tissue and inflammation gradually reducing the symptoms.
London, UK (PRWEB) May 31, 2013
The American Urological Association has announced that healthy men under 55 don't need routine annual screening, states the article on 'Urology group stops recommending routine PSA test' in the USA TODAY, on May 3, 2013, that is a step forward in the protection of men's quality of life as even undergoing a prostate biopsy, in which some prostate tissue is removed with needles, puts men at risk of being hospitalized for an infection or other complication. Thus, any prostate problem has to be treated naturally in the first instance, and Dr. Allen's Device for Prostate Care is able to help, particularly with BPH and chronic prostatitis, Fine Treatment reveals.
The new recommendations are a "radical change," but a welcome one, says Michael Palese, Associate Professor of Urology at the Icahn School of Medicine at Mount Sinai, who was not involved in writing them. "It will help to change the current climate of over-biopsy and overreaction when it comes to PSA," Palese says. "On the other hand, we do need to continue to keep a vigilant watch on those patients who have prostate cancer that should be treated and will benefit from treatment."
The main reason why a federal advisory panel has made this decision is the patients' poor quality of life after prostate removal procedures. Devastating personal experiences are shared on the Men's-Health Forum on Retrograde Ejaculation after Prostate Surgery. One, for instance, says, "I was misled by my doctor in 2009. Expected one thing and was incontinent 2 years after TURP. No warning from the doctor," 29 December 2011. Another one posted 4 January 2012 says, "After my TURP (2009) I experienced problems about which were not told by the doctors, 2 years at least incontinence. No orgasms."
In most cases, surgeries can now be replaced with the Thermobalancing therapy, as Dr. Allen's therapeutic device is able to terminate prostate enlargement and inflammation effectively. The device is natural, and does not contain electronics or batteries. A video recorded by the Oxford Innovation Centre demonstrates how to use Dr Allen's Device and what its benefits are: http://www.youtube.com/watch?v=V5xidswhxJM.
"A new web page on Medical Evidence confirms that the Thermobalancing therapy provides an essential prostate treatment for chronic prostatitis and prostate enlargement. A mere placebo effect cannot achieve such results," says Dr. Simon Allen. "Dr. Allen's Device increases blood circulation in the prostate that helps with cleansing it from extra tissue and inflammation gradually reducing the symptoms."
For more details, visit Fine Treatment at http://finetreatment.com/bph-treatment-prostate-enlargement.
About Dr. Simon Allen and Fine Treatment:
Dr. Simon Allen is a highly experienced medical professional. His specialty is in the internal medicine. He has treated a wide range of chronic diseases, including patients after a heart attack, with kidneys problems, including kidney stones disease, prostate and spine conditions, as well as metabolic disorders. Fine Treatment exclusively offers Dr Allen's devices for chronic prostatitis and BPH treatment, coronary heart disease, dissolving kidney stones, as well as back pain and sciatica relief.