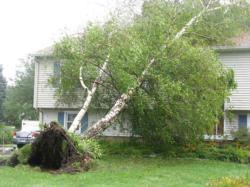 Some tree care companies are reporting more than double business in the last week or two.
Atlanta GA (PRWEB) September 26, 2011
While the fierce flooding generated by Hurricane Irene left much of the Eastern Seaboard underwater, the high winds caused another kind of damage, namely the uprooting and damage to trees throughout the storm's path. Many tree care companies are reporting sharp increases in their business over the last few weeks.
Public works crews were busy clearing downed trees from road and other public areas, and private property owners were busy putting in calls to commercial tree services to perform similar tasks for their homes or businesses. Some tree care companies are reporting more than double business in the last week or two.
Of course downed trees often catch electrical wires in the process, so there has also been quite a boom in business for local electricians. Technicians have been busy restringing wires as well a setting up temporary generator units to provide power for an electricity starved populace.
One tree care provider said that despite the inconvenience caused by the recent severe weather, Irene's handiwork will stimulate local economies. "It's better than Cash For Clunkers," he said.
As of one week after the storm blew through, electricity had been restored to many areas. Tree care providers, however, saw their work just beginning. Some providers have been putting in extra hours to handle the load, a load that might have been even heavier had land line phone service been functional in the days after the storm.
Local emergency management officials advise that residents should expect trees to fall during severe storms. It should be considered a hazard that goes along with living in a wooded area.
Tree and foliage cleanup is expected to continue across many areas affected by Hurricane Irene and Tropical Storm Lee for the next several weeks.
Tree Care Local.com is a nationwide network of tree care providers. They advise that tree care, particularly in the wake of severe weather, can be extremely hazardous.
The first and most important thing is to determine if the damaged tree presents a hazard in anyway. This would be described as a tree, or any part of a tree that could fall on an area where people, structures, cars, equipment, etc. are present or may be present. This would include homes, garages, carports, barns, cars, streets, sidewalks, playgrounds, parking lots, etc. Also, if overhead utility lines are present, they could be hit if the tree falls. If this is the case, the tree should be considered a hazard and removal necessary.
Professional tree care should be called in when:

The tree is large and requires high climbing or the use of a chain saw.
The tree is partially down
Wires are involved or structures are endangered.
Major repair of the tree is necessary, such as cabling or bolting a split fork.
Large limbs are split or broken, but still attached to the tree.
You do not have the proper tools, knowledge or health to do tree work.
The best tree care candidate should offer 24/7 emergency service.
###