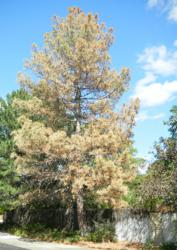 Some of Colorado's signature trees are threatened in 2013, and the clock is ticking.
Denver, Colorado (PRWEB) January 15, 2013
Tree disease control will be a big topic for Colorado's drought-ridden landscapes when the warm Spring months arrive. Swingle Lawn, Tree & Landscape Care advises Colorado homeowners, golf courses and commercial property managers to take proper measures to control the spread of parasitic insects.
"It's wonderful that we seem to have successfully weathered the Dutch elm disease attack on American elms," said Tom Tolkacz, CEO of Swingle, "but the warmth we experienced in 2012, the dry conditions we expect to continue to experience and active pests coming from the east and west create an environment very favorable for pests that cause tree disease. Some of Colorado's signature trees are threatened in 2013, and the clock is ticking."
Coloradans will need to be especially vigilant in monitoring and, where possible, taking preventive measures.
Some tree pests are simply aesthetically displeasing, such as the flea weevils that live off of elm trees and Japanese beetles which devour rose petals, vines, lindens and many other landscape plants.
Colorado's aspen trees are under attack from multiple pests including an insect called willow scale. Untreated willow scale infestations can kill aspen trees. Willow scale is making its way to Colorado's Front Range by way of Aspen and Vail.
One-thousand cankers disease of walnut is actively killing trees in Denver, Fort Collins, Boulder and Loveland. Pesticides are necessary to inhibit the spread of the tree disease.
Eastern Colorado's entire Austrian and Scotch pine population is threatened by pine wilt disease. The pinewood nematode, which causes the disease, thrives in warm Spring weather. Prevention requires intensive treatment.
More information is available on Swingle's website.
Swingle Tree Care Specialists provide free inspections for residential and commercial landscapes. The company currently offers specials on tree pruning, deep root tree watering and lawn mite control.
About Swingle Lawn, Tree & Landscape Care
Founded in Denver in 1947 by tree surgeon John Swingle, Swingle Lawn, Tree and Landscape Care has grown to be the one of the largest residential and commercial landscape care companies in Colorado, employing more certified arborists than any other Colorado company. For information please contact Vince Serio VSerio (at) MySwingle (dot) com (303) 337-6200 or visit MySwingle (dot) com/contact.